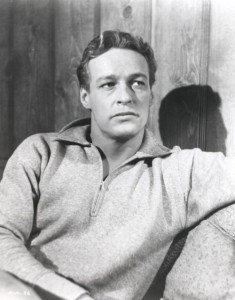 Russell Johnson, the actor who played the Professor on "Gilligan's Island," died on January 16, 2014, at the age of 89. He only played Professor Roy Hinkley for three of his 89 years, but he will be forever known as the handsome fellow in the white shirt and khakis, with the blue boat shoes, who seemingly knew something about everything.
Professor: "That glue is permanent! There's nothing on the island to dissolve it. Why, do you know what it would take? It would take a polyester derivative of an organic hydroxide molecule." Mr. Howell: "Watch your language! You're in the presence of a lady!"
A silly show, yes, but the Professor always made learning and being smart seem cool. He had a B.A. from U.S.C., a B.S. from U.C.L.A., an M.A. from S.M.U. and a Ph.D. from T.C.U. I always loved his character.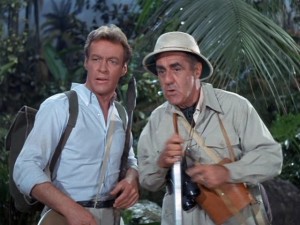 Level-headed in any crisis, scientific in the face of fear and superstition, but always possessing a warm heart, Russell Johnson created, without really trying to, a timeless, classic television character that, to my mind at least, rivals the all-time greats like Barney Fife, Ted Baxter, and Cosmo Kramer.
I say that he created the memorable Professor "without really trying to" because Johnson always thought the role was just another job in what he hoped would be a long and fruitful acting career. Had you told him in 1964, when the show began, that when he died 50 years later the role on "Gilligan's Island" would be the lead in his obituary and the thing he would be most famous for, he would have been appalled and dumbfounded.
As he wrote in his memoir, Here on Gilligan's Isle, "none of us thought the show would last. Some of us thought it wouldn't last a full season. I certainly never thought we were doing work that would someday, years down the line, be dissected by fans. We had no idea we would become so much a part of the public's consciousness, so why save momentos? Why sock away scripts?"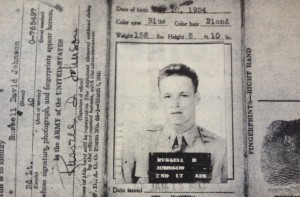 Russell Johnson the man was a decorated World War II soldier, a veteran of the Army Air Corps who was shot down over the Philippines in 1945 and received the Purple Heart, the Air Medal with Oak Leaf Cluster, the Asiatic-Pacific Theater of War ribbon with four battle stars, and the Philippian Liberation medal. He went to school at the Actor's Lab in Hollywood on the G.I. Bill after the war and remained justly proud of his military service all his life.
Russell Johnson the man was also a father, and after his son David died from complications of AIDS in 1994, Johnson devoted much of his time volunteering to help raise money for AIDS research.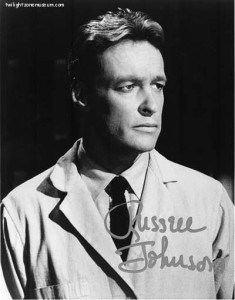 Russell Johnson the actor never possessed a very wide range but he played a number of interesting roles before landing on that island. He was in two very memorable—at least for a historian—episodes of "Twilight Zone" that both involved time travel. In the episode "Back There" Johnson journeys back to 1865 and tries to prevent the Lincoln assassination, while in "Execution" he brought a condemned killer from 1880 into modern-day New York via a time machine.  He played U.S. Marshal Gib Scott on the show "Black Saddle" (1959-60) and was always proud of the fact that he shot Ronald Reagan in the movie Law and Order (1953). He was also in the 1957 Roger Corman film Rock All Night and the sci-fi classics It Came From Outer Space (1953) and Attack of the Crab Monsters (1957).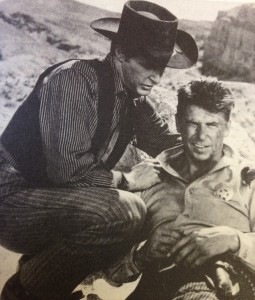 The sad part, of course, isn't so much that Johnson and all the other actors on "Gilligan's Island" became typecast. It's that despite the show's never having gone off the air after its original three-year run of 98 episodes from 1964-67, none of the actors received a penny for their work on that show after 1969. Not a cent. They made money at fan conventions and personal appearances, but two years after the show ended, the cast had been paid in full under the contract the show's owners offered them when it was cancelled. As Johnson said, "If only I had a dollar for every time the show had aired somewhere."
My 7-year-old daughter asked me recently as we watched an episode of "Gilligan's Island" if they ever got off that island. No, I said, they never did (at least not in the show's original run). "I'm glad," she replied," it looks like a lot of fun. I wish I could be there with them." I remember thinking the same thing when I watched it at her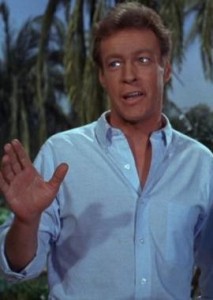 age. For all of us who grew up—and are still growing up—with those seven stranded castaways, Russell Johnson—decorated war hero, actor, devoted father—and the brainy, lovable and timeless character he created will always be a cherished and welcome companion.
Russell Johnson may be gone, but here's to hoping that the three-hour tour will happily never end.