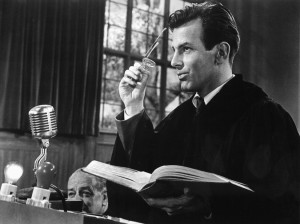 Lost in the news yesterday of the Super Bowl and the tragic death of Philip Seymour Hoffman was the death of another actor, one equally talented and brilliant: Maximillian Schell, dead at 83 on Saturday, February 1.
If you've never seen him or heard of him, watch him in Judgment at Nuremberg, Stanley Kramer's 1961 re-telling of the Nazi war crimes trials following World War II. Yes, it's in black and white, but it's all the better for that. You can watch the trailer here: http://www.youtube.com/watch?v=RfOgZXIQ6fo
Schell was 30 years old in the film and "ruggedly handsome," as the New York Times said, and even though Spencer Tracy, Judy Garland, Burt Lancaster, Richard Widmark, and Montgomery Clift headlined the all-star cast, it's Schell you can't take your eyes off of. And not just because of his looks.
He plays a brooding and angry German defense attorney charged with defending the undefendable. He asks the judges to consider the fact that if Germany is guilty, who is not? "Why did we succeed, Your Honor? What about the rest of the world? Did it not know the intentions of the Third Reich? Did it not hear the words of Hitler's broadcasts all over the world? Did it not read his intentions in Mein Kampf published in every corner of the world? It is an easy thing to condemn one man in the dock. It is easy to condemn the German people to speak of the 'basic flaw' in the German character that allowed Hitler to rise to power – and at the same time positively ignore the 'basic flaw' of character that made the Russians sign pacts with him, Winston Churchill praise him, American industrialists profit by him! No, Your Honor. Germany alone is not guilty. The whole world is as responsible for Hitler as Germany."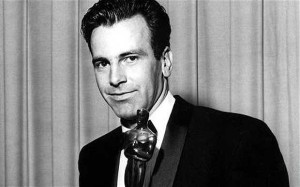 Schell's passionate and riveting performance as Hans Rolfe won him an Oscar for Best Actor. After seeing Schell in this film, you'll never watch Jon Hamm's moody portrayal of Don Draper in "Mad Men" the same way again. They even look similar.
Maximillian Schell in Judgment at Nuremberg is the kind of role by an actor that sends you looking for everything else they've done. With Schell you were never disappointed. He was, as they say, electrifying.