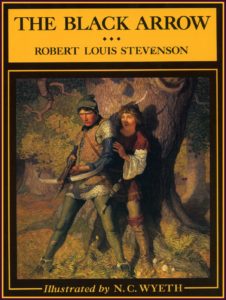 The Black Arrow: A Tale of the Two Roses by Robert Louis Stevenson (1888; Easton Press edition, with illustrations by N.C. Wyeth, 328 pp.)
Unlike many people—and for reasons I can't now fathom—I never read Robert Louis Stevenson as a boy. Not until my mid-30s did I read Treasure Island, and then 10 years more elapsed before I got around to Dr. Jekyll and Mr. Hyde.
Now another decade has gone by before reading The Black Arrow, Stevenson's wonderful tale of history and romance set during England's War of the Roses (1455-1485).  (Still to come: Kidnapped, along with nearly everything else he ever wrote.)
I've read and re-read Treasure Island, and it's safe to say that Stevenson is now one of my preferred authors. His short story "The Body Snatchers" has long been a favorite, a tale of supernatural horror that I've dipped into many times over the years on blustery winter evenings seated before a fire. No less than Arthur Conan Doyle considered Stevenson's story "The Pavilion on the Links" (no, it's not about golf) to be the height of perfection. It has the distinction of being one of the first short stories in the world.
Despite his reputation, Stevenson is not a children's author. That label dogged him in the years immediately following his death, but by the middle of the 20th century he had rightfully taken his place among the distinguished writers of English literature. His work speaks to anyone who loves a good story, great writing, and the thoughtfulness of a man who puzzled over the ambiguities of the human condition but who never professed to fully understand it.
Stevenson suffered most of his life from tuberculosis, and he traveled restlessly across the globe from one place to another seeking relief and good health. He finally found it in the South Pacific but died tragically in 1894 on the island of Samoa from a cerebral hemorrhage. He was only 44.
He lies there still, buried on Mount Vaea, with his own haunting poem, "Requiem" on his tombstone:
Under the wide and starry sky,
Dig the grave and let me lie.
Glad did I live and gladly die,
And I laid me down with a will.
This be the verse you grave for me:
Here he lies where he longed to be;
Home is the sailor, home from sea,
And the hunter home from the hill.