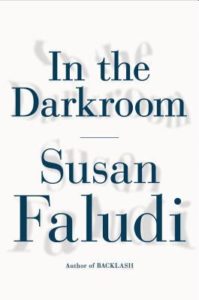 In the Darkroom, by Susan Faludi (Metropolitan Books/Henry Holt and Company, 2016, 417 pp.)
What creates our identity and makes us the person that we are? Our gender? Our sexual organs? Our DNA and our parents? Our country of origin? Religion and History?
Award-winning journalist Susan Faludi received in 2004 an email from her father, with whom she'd barely spoken for 25 years, with the subject line, "Changes." Her father Steven—at the age of 76—had become Stefanie: "Dear Susan, I've got some interesting news for you. I have decided that I have had enough of impersonating a macho aggressive man that I have never been inside."
Her Hungarian father had undergone sexual reassignment surgery, and Susan would spend the next 10 years trying to get to know her father and uncover his long-hidden Jewish past during the Holocaust in Hungary: "As a child I had resented and, later, feared him, and when I was a teenager he had left the family—or rather been forced to leave, by my mother and by the police, after a season of escalating violence. Despite our long alienation, I thought I understood enough of my father's character to have had some inkling of an inclination this profound. I had none."
This book is the story of her journey to understand her father's real identity. The title comes from her father's fascination with photography, and his lifelong habit of using a camera lens to obscure not only the reality in front of him but also his own murky past—and ultimately who he really was. I didn't think it possible to mix a study of transsexuality with the history of the Holocaust, but Faludi has done it superbly, uncovering layer by layer pieces of her father's history.
The result is a fascinating journey into the meaning of gender, sexuality, history, and ultimately identity.  Can we re-invent ourselves and escape who we really are by changing our name and our sexual organs? Is biology destiny? Is that ultimately what creates our identity? Or is the past unescapable, both for individuals and for nations?
Faludi the journalist tells a larger story here as well. As her father reinvents himself, so does modern-day Hungary. She deftly details the rise of the modern authoritarian government there and its quest to "restore" Hungary to its "true" identity, a frightening "pure" Hungarianism that is openly anti-Semitic and anti-LGBT. The clashes on the streets of Budapest reverberate far beyond its borders, across Europe and America.
The questions Faludi poses about identity and history are more pertinent and troubling than ever, both for ourselves individually and for our society collectively. Individually, social media allows us to reinvent ourselves as we choose and present a public brand of our own creation, while collectively we are seemingly at war over the meaning of our own history and the story it tells in the public arena. Some of those who decry the removal of Confederate monuments as "erasing history" applauded when Communist statues came down in Eastern Europe and approve now the erasure of slavery from American history textbooks.
The answers to the questions about history, memory, and identity remain elusive but astoundingly important.  What, ultimately, creates our identity and makes us who we are?