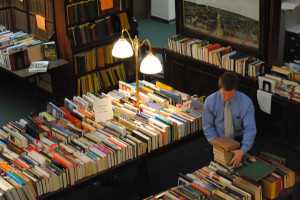 For those who love books, there are few more exciting moments than stepping into a used bookstore, and the anticipation of what treasures might lie before you. On one day each year, the grand reading room of the Georgia Historical Society's Research Center is transformed into such a place.
GHS's Annual Book Sale takes place this year on Saturday, April 23, from 10 to 5. GHS members get a sneak peak for an hour beginning at 9. All proceeds are allocated strictly to purchase materials for the Research Center that strengthen GHS's formidable collection of all things Georgia-related.
As a book lover, voracious reader, and avid collector, I can't tell you how eagerly I anticipate this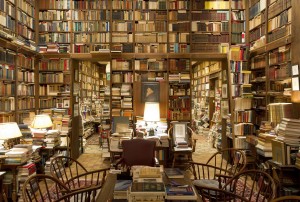 event every year (that's me in the picture above). I love all manner of genres and varieties of literature, and I've bought every kind of title you can imagine at the GHS funfest over the years, everything from The Writer's Manual to The Rise and Fall of the Third Reich to How to Be a Gentleman. When a book is priced at 50 cents or a dollar, you almost have to buy it. This is how your house becomes a library with furniture in it.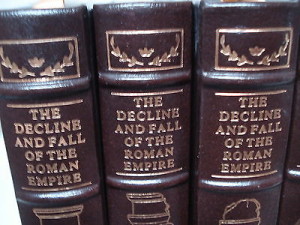 But as I've described elsewhere, I'm a sucker most of all for the multi-volume set. As my good friend Becky once said, all a publisher has to do to get me to buy a book is to put "Volume 1" on the cover. I've found many goodies of this variety at the GHS booksale through the years, a veritable smorgasbord of history and literature that someone like me just cannot pass up. As Henry Ward Beecher said, where is human nature so weak as in a bookstore? Or a used book sale?
Here's just a small sampling of the some of the nuggets I've staggered home with over 18 years of GHS booksales:
American Heritage Junior Library: You have to love that post-WWII era in American history when publishers readily cranked out multi-volume sets on history, literature, art, poetry, or almost anything else, for the average reader—and their children—and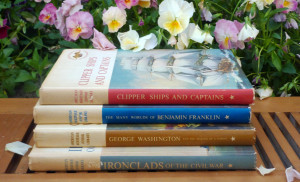 paid some of the best writers of the period to contribute.
This 41-volume set was published by American Heritage between 1960 and 1970 and was aimed at the junior-high level and above. When you read them now, you realize how much was expected of a junior-high reader in the 1960s. Forget the junior-high bit: These books are all well written and grounded in the primary sources, and they're perfect for adults who love history. The titles pull you in immediately: To the Pacific With Lewis and Clark, Thomas Jefferson and His World, History of the Atomic Bomb, Pirates of the Spanish Main, Lexington, Concord, and Bunker Hill, and The Many Worlds of Benjamin Franklin, to name a few. Many acclaimed historians of the day contributed, including John Garraty, Marcus Cunliffe, Stephen Sears, and Bernard Weisberger. Bruce Catton wrote a volume on The Battle of Gettysburg. This and all the series below were priced to sell, usually at $25 or less. I boxed them all up and made off like a bandit.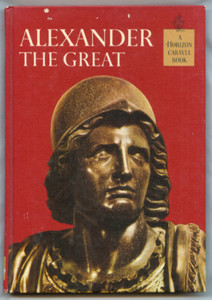 Horizon-Caravel Library: This series is a companion to the one above, focused instead on world history. It's a terrific find, 35 volumes in all, covering everything from Alexander the Great to King Arthur (written by the renowned British historian Christopher Hibbert) to Shakespeare to Captain Cook to Beethoven to the Russian Revolution. The narratives flow, are abundantly illustrated, and great fun to read.
Gateway to the Great Books: This 10-volume series was originally published by Encyclopaedia Britannica in 1963 and edited by Mortimer Adler and Robert Maynard Hutchins, the dynamic duo most responsible for the EB's publication of the Great Books of the Western World eleven years earlier. This set includes selections by many of the authors in the larger series through short stories, plays, essays, letters, and extracts from longer works. Here you'll find Plutarch, Bacon, Darwin, Hume, Dante, Melville, Dostoevsky, Rousseau, Hume, and more than a hundred others in bite-sized morsels. As a bonus there's a classic essay introduction written by Hutchins, who always sang the siren song of the downfall of Western civilization unless people kept reading.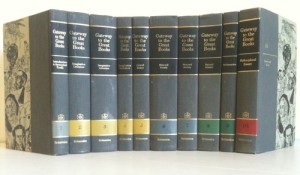 Volume 2 alone has extracts from Defoe, Kipling, Victor Hugo, Maupassant, Hemingway, Walter Scott, Joseph Conrad, Voltaire, Oscar Wilde, Poe, Twain, Robert Louis Stevenson, Dickens, and Gogol, a literary feast if ever there was one. Volume 7 ("Man And Society II") contains among other things Jonathan Swift's essay, "A Modest Proposal for Preventing the Children of Ireland from Being a Burden to Their Parents or Country." How do you resist a treasury like this? I couldn't, especially when the whole set cost only $15. Box it up and drag it home!
The Life History of the United States: Life magazine published this 12-volume set in 1963-1964. This hardcover series starts with The New World: Pre-history to 1774 and ends with The Great Age of Change, 1945-present, the present, of course, being the mid 1960s. Some of the best consensus-era historians wrote these volumes, including Richard Morris, T. Harry Williams, and William Leuchtenberg (who's still writing at age 93—see his recent tome on The American President). These are all done in the classic Time-Life motif, with great illustrations and flowing narrative.
Great Ages of Man: A History of the World's Cultures: Another Time-Life series from the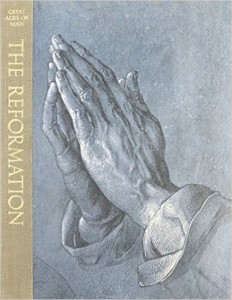 1960s, this one comes complete with an introductory pamphlet entitled "What Man Has Built" written by the great Columbia University historian Jacques Barzun. These magnificent 21 volumes are gracefully written and splendidly illustrated and allow you to browse your way from Ancient Egypt, Greece, and Rome, over to India, China, and Japan, all the way through the Reformation, the Enlightenment (written by the renowned Freud biographer Peter Gay) and age of Exploration, right up to the mid twentieth century. Again, I picked this one up complete in mint condition for less than $30.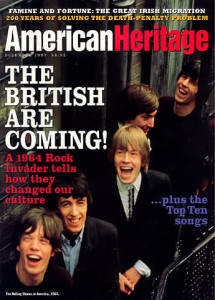 American Heritage magazine: The biggest catch I ever landed at the GHS booksale was a complete run of American Heritage magazine. I first subscribed to AH as a junior at the University of Georgia in 1985. It was typical of those wonderful family of Forbes magazines published before the advent of the Internet, thick with full-page illustrations and great writing by some of the country's leading historians. Imagine my delight when one year, just days before the book sale, a family in Savannah donated a complete run of the magazine, from the first hardback issue in December 1954 through the switch over to softcover in 1980, up to the present, over 300 issues across 50 years. I bought the whole thing for $200 and then had to buy a new set of bookshelves for my house just to hold them all. But I now own a complete run of the magazine from December 1954 through 2012 (when it suspended publication), and I've spent countless pleasurable hours perusing its pages. The advertising alone was worth the price.
I just pulled down a random volume, this one from October 1970, and there are articles by the great Richard Hofstadter, Barbara Tuchman, the Wartime Journals of Charles A. Lindbergh, and an essay by Willa Cather. Multiply that out by hundreds and you get some idea of the riches to be assayed in the pages of this now-defunct slice of American literary culture.
Other Gems: One year I bought 20 volumes published by Easton Press—they of the leather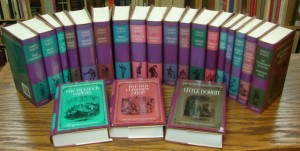 hardbound covers and moiré endpapers and beautiful binding—for $150, including the 3-volume collection of the complete Sherlock Holmes stories by Arthur Conan Doyle. Another year I gobbled up the Oxford Illustrated Dickens, 21 volumes of Charles Dickens complete novels, stories, and sketches, all for only $20. Other goodies include six volumes of American humorist Will Rogers' writings, two volumes of George Orwell's essays, and six volumes on The Great Age of Western Philosophy ($6).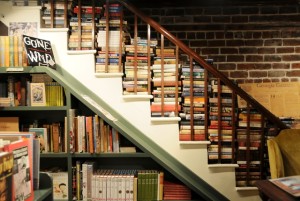 These are just the multi-volumes sets. I could go on and on about the individual volumes I've bought, countless treasures that I grabbed for $2 or less, boxed up, lugged home, and then puzzled over where the heck to fit them into a house already overflowing with books. It's a yearly ritual, like buying a Christmas tree, and one I wouldn't do without.
But Stan, you say, I could care less about all those dull multi-volume sets and would never clutter up my house with such garbage. Well of course you wouldn't, those are what I buy—I left the stuff you like sitting right there on the table for you to find.
The GHS booksale has something for every discerning palate, be it coffee table books on art and architecture, or volumes on gardening, cooking, sculpting, painting, novels of every stripe and genre from Homer to Jonathan Franzen, mysteries, non-fiction, self-help, poetry, philosophy, religion, short stories, rare books, children's books, and of course history, biography, and Georgia history. It's a veritable feast.
Remember too, you can donate books right up to the sale, to make room for all the good stuff you'll take home. If you love books or only have a passing acquaintance with them, don't miss out on this annual tradition: Saturday, April 23, 9 a.m. for members, 10 a.m. for everyone else.
This may finally be the year I spot that rare set of the complete writings of Irving Forbush. Just don't be standing in front of me when I do.