Paper or Plastic?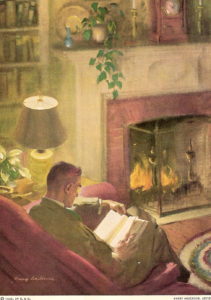 Once again this week we take a break from discussing a particular book to examine other literary topics of interest. This week: printed books vs. the electronic version.
Philip Leighton, a consultant on library design, said that "books are for reading and computers are for research." Without going quite that far, I'll say that if any long-suffering reader of this blog needs to be told which version I prefer, then you haven't been paying attention. This isn't really about which is best but what is particular to each and the joys they bring.
There is of course a great deal of difference between reading the printed word and reading text (like the words you're reading right this red-hot second). The experience of holding a tactile object in your hand, with pages that must be turned, is very different from holding an electronic device with a screen that one scrolls through and plugs in when the battery runs down. Both of them offer words but in very different ways. And let the record show, I'm heartily in favor of both.
Breaking news: I love books. Real books. I love the smell and the feel of them. I have several thousand in my home, over a thousand more in my office at GHS, and several hundred in a mountain cabin. Some people see books as clutter, as something to be gotten rid of or to be periodically "pared down." People who say things to me like, "you need to get rid of all these books" are subsequently banned from the premises, if not out of my life altogether. What utter rubbish. No, I don't have room for them all, but if I did then I wouldn't have enough. See how that works? Augustine Birrell put it best: "An ordinary man can surround himself with two thousand books and thence forward have at least one place in the world in which it is possible to be happy.
Still, as incomprehensible as it might be to me, some people love e-readers like the Kindle precisely because it makes all those physical objects—and finding room for them—unnecessary. If you simultaneously love to read but don't like walking into a room and seeing the majesty of rows of books displayed on a shelf (besides obviously being a candidate for psycho-analysis), then the e-reader is for you.
The e-reader brings its own joys. As I've written elsewhere, one of the beauties of the Kindle is the ease with which one can find the complete works of some great authors and their otherwise scarce books and purchase them for practically nothing.
My Kindle has the complete or collected works of the authors you'd expect to find like Arthur Conan Doyle and Charles Dickens, but also the complete works of writers whose work I've never come across in a bookstore, such as the masters of horror fiction like Lord Dunsany, Algernon Blackwood, Sheridan Le Fanu, and Arthur Machen; great crime masters such as Sax Rohmer (creator of Dr. Fu Manchu), Baroness Emma Orczy (The Scarlet Pimpernel), Austin Freeman (Dr. Thorndyke mysteries), Clayton Rawson (The Great Merlini series), along with the exploits of Pulp-era detectives Bulldog Drummond, Average Jones, and Craig Kennedy ("the scientific detective"); childhood favorites like Tom Corbett (Space Cadet) and the Rick Brant Adventures; timeless reads such as Lord Chesterfield's Letters, Joseph Addison's Spectator, as well as the complete works of nearly forgotten authors Edith Nesbit, Ambrose Bierce, H.P. Lovecraft, Thomas Love Peacock, Tobias Smollett, Ann Radcliffe, Samuel Richardson, Kenneth Grahame, Horace Walpole, and many others. It's all at my fingertips, cost virtually nothing, and takes up no space.
It goes without saying that I could never lug such a variety of genres around with me in such a compact and convenient way, even if I lived long enough to find these books in print. The e-reader is obviously perfect for the waiting room and the airport, while having the Kindle app on your phone is the perfect antidote to those interminable DMV visits or any unexpected long delay anywhere.
The only drawback is that you can't impress anyone around you by reading War and Peace on your phone. Not to mention, if you're reading anything with that many pages—trust me on this—you're going to need to see yourself making real progress in a real book or you'll feel like you're trapped in digital hell.
The e-reader then is yet another wonderful tool for bringing more reading into our lives. This blog stands decidedly in favor of that. May it continue to thrive and offer readers the chance to discover or re-discover authors whose works have been sadly forgotten or those whose books grace the best-seller lists, whichever you prefer.
Book lovers used to despair that e-readers might one day replace the real thing. As I watch vinyl records make a strong comeback (while CDs and places to play them disappear), and the sale of e-books stagnate, I no longer worry. I'm confident that printed books aren't going anywhere.
Where will the books I bought on my Kindle be in 30 years? I have no idea. But the real things will still be waiting on the shelves, companions of a lifetime whose friendship never grows old. Pete Hamill said "there are 10,000 books in my library, and it will keep growing until I die. This has exasperated my daughters, amused my friends, and baffled my accountant. If I had not picked up this habit in the library long ago, I would have more money in the bank today. I would not be richer."
However we read, we can all agree with Matthew Price: "Books, in all their myriad forms, are necessary equipment for living."