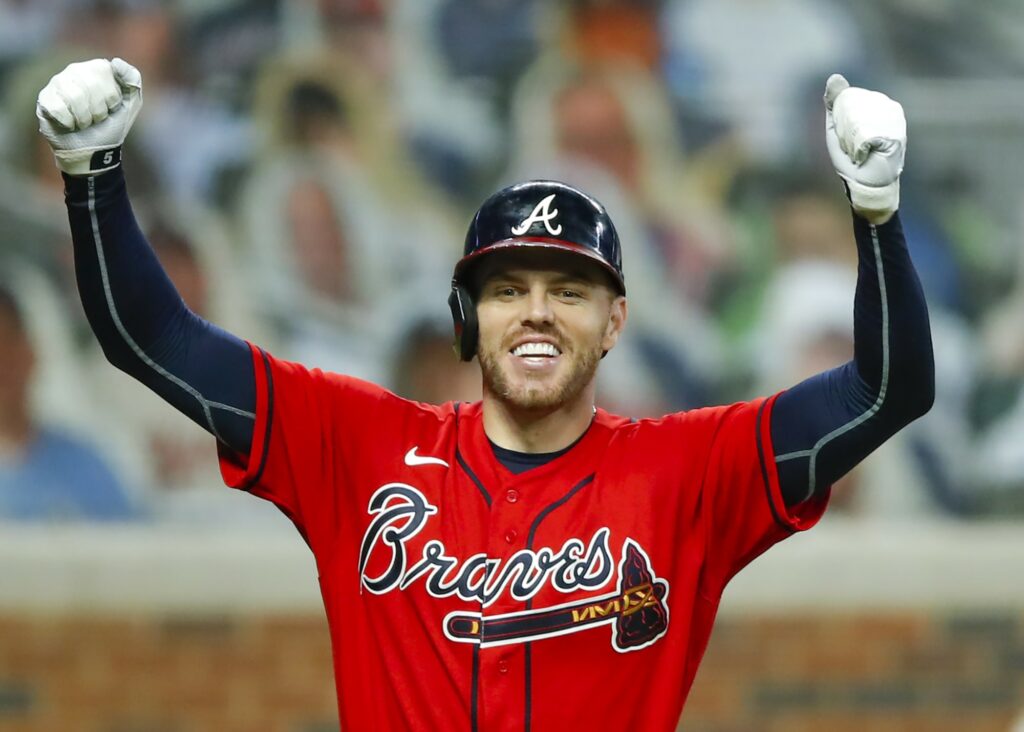 Oh, somewhere in this favored land the sun is shining bright,
The band is playing somewhere, and somewhere hearts are light;
And somewhere men are laughing, and somewhere children shout,
But there is no joy in Mudville—mighty Casey has struck out.





"Casey at the Bat," Ernest Lawrence Thayer, 1888
Six months ago, on April 1, I welcomed the start of the baseball season, and now the Braves have made it to the National League Championship Series, the semi-finals of the World Series.
They made this trip 8 years in a row between 1991 and 1999, winning 5 National League pennants, returned in 2001 (losing 4 games to 1 to the Arizona Diamondbacks), then had a 19-year drought before returning to the NLCS in 2020 in a pandemic-shortened 60-game season. They led the eventual champion Dodgers 3 games to 1 before losing three straight to hand them the pennant. Will this year be different? As of this writing, they still await their opponent—either the San Francisco Giants or the Dodgers again. Either team will present a huge challenge.
The 2021 MLB playoffs have already had some very strange moments. I've been watching baseball for 50 years but I've never seen a play like we saw in Game 3 between the Red Sox and the Rays last Sunday. With the score tied 4-4 in the 12th inning and the go-ahead runner on first base, Tampa's Kevin Kiermaier hit a deep fly ball to right field. Everybody knows about Fenway Park's 37-foot Green Monster in left field, but the fence in right is only 3 to 5 feet tall.
The ball hit the top of the fence, caromed back onto the field, hit Boston right fielder Hunter Renfroe, and then bounced over the short fence and out of play, which otherwise would have easily scored Yandy Diaz, the Tampa runner at first. After the umpire's conferenced with each other and then talked to the replay booth in New York, the play was ruled a ground-rule double, sending the go-ahead run back to third base and stopping Kiermaier at second. Outrage and dismay rang out loudly across the Twitter-verse. The next batter struck out and Boston's Christian Vasquez hit a walk-off 2-run homer in the bottom of the 13th, ending a game that lasted 5 hours and 14 minutes and featured 16 pitchers.
Would that Tampa run have made any difference if Diaz had been allowed to score? Who knows, but that extraordinary and bizarre play encapsulates what is so great about baseball: even after 150+ years of baseball history, the game can show you something new every night. And it demonstrates the uniqueness of the game. Think about this: every professional ice hockey rink has the same dimensions, as does every NBA basketball court, and every football field, whether at the high school, college, or pro level. But every baseball field in every stadium in major league baseball has different dimensions in terms of the distances between home plate and the outfield fence, and as regards the height of the outfield fence. A ball hit in Fenway Park will not play the same as a ball hit to right field in Dodger Stadium. That's the charm and the lunacy of this game.
Don't get me wrong, I love the old historic ballparks as much as the next person, but it's a shame to see the park itself determine the outcome of a game. That wouldn't have happened in a more modern ballpark with taller fences.
Then, in Game 3 of the Giants-Dodgers series on Monday night, with the Giants leading 1-0, a strange wind blowing over Dodger Stadium in Los Angeles knocked down a potential game-tying 9th-inning home run off the bat of Dodger Gavin Lux. The same hit would have been out in nearly every other park, but it dropped dead that night in LA and ended the game. Giants win, 1 – nil.
In the 4th inning of the Braves clinching Game 4 win Tuesday night in Atlanta, Adam Duvall hit a pop-up behind home plate that deflected off Brewers catcher Omar Narvaez's glove before being caught by third baseman Luis Urias in what looked like a great heads-up play. But replays showed the ball hit the ground before Urias caught the ball, which should have extended Duvall's at-bat.
Everyone—especially Braves fans—waited impatiently for the play to be overturned on review. But—Sonja Henie's tutu!!—the play turned out to be un-reviewable by the umpires. Why? According to MLB: "An umpire's decision whether a fielder caught a fly ball or a line drive in flight in the outfield before it hit the ground is reviewable, but fly balls or line drives fielded by a defensive player in the infield is not eligible for review."
A play like that is not reviewable, in Game 4 of the playoffs with both teams' season on the line? Why? What is the point of having replay if not for moments like that? To quote Dr. Clipton in Bridge Over the River Kwai: Madness.
Finally, there was the bizarre base-running interference play in Game 3 of the Astros-White Sox series on Sunday night that I won't even begin to describe. But if anyone can adequately explain MLB's rules to me on what does and what does not constitute baserunner interference, dinner at the Burp n' Slurp is on me.
These kinds of strange plays happen frequently throughout baseball's long 162-game season without attracting much notice. If you lose tonight, you play again tomorrow night. Repeat that sequence for the next six months. But suddenly in a short playoff series these missed calls and freak plays can end your season and championship dreams quickly.
That's always been the most maddening and yet intriguing part of the MLB playoffs to me. Baseball plays the longest season of any professional American sport, at 162 games. Across that long span we know who the best teams are in both leagues. There's no guesswork involved. This year the San Francisco Giants won 107 games, and they are clearly the best team in the National League, just as the Tampa Bay Rays with their 100 wins are the American League's champs. In a normal universe, these two teams would go straight to the World Series and play each other for the championship.
But that's not the way it works in Mudville. Here, the post-season tournament starts, and all of that is thrown out. Madness begins. Eight teams make the tournament and anything can and does happen. In a short series, good hitters bats go cold; Cy Young-winning pitchers can't find the strike zone. Relief pitchers who haven't lost a game since Hector was a pup give up game-winning home runs. Controversial plays aren't reviewable, the wind knocks down a game-tying home run, a ball hits a player and bounces over the fence, and your season comes to a crashing halt. Teeth gnash and grown men and women wail.
Former baseball commissioner and Yale president Bart Giamatti was right: baseball breaks your heart. It is designed to break your heart.
But just when all hope seems lost, Mighty Casey, in the fine form of Freddie Freeman, steps to the plate against one of the best relievers in baseball—who hasn't given up a run in almost two months—and he does not strike out. Instead, he crushes a game- and series-winning tater over the wall, sending the faithful into a furious frenzy. Joy in Mudville.
Who knows what heartache may await in the next round, or in the World Series? For some team, it will surely come.
Let it. That's what this great game is designed to do. God, how I love it.