Alexander X. Byrd is an Associate Professor of History at Rice University. In 2020 he was appointed Rice's first Vice Provost for Diversity, Equity, and Inclusion. Dr. Byrd's area of expertise is Afro America, especially Black life in the Atlantic world and the Jim Crow South. He received his Ph.D. in History from Duke University in 2001. His study of free and forced transatlantic Black migration in the period of the American Revolution, Captives and Voyagers: Black Migrants Across the Eighteenth-Century British Atlantic World (LSU Press, 2010), received the 2009 Wesley-Logan Prize in African Diaspora History. Dr. Byrd teaches courses in African-American history at Rice, where he is a four-time recipient of the George R. Brown Award for Superior Teaching. He is currently co-editing the Oxford Handbook of African American History with Dr. Celia Naylor.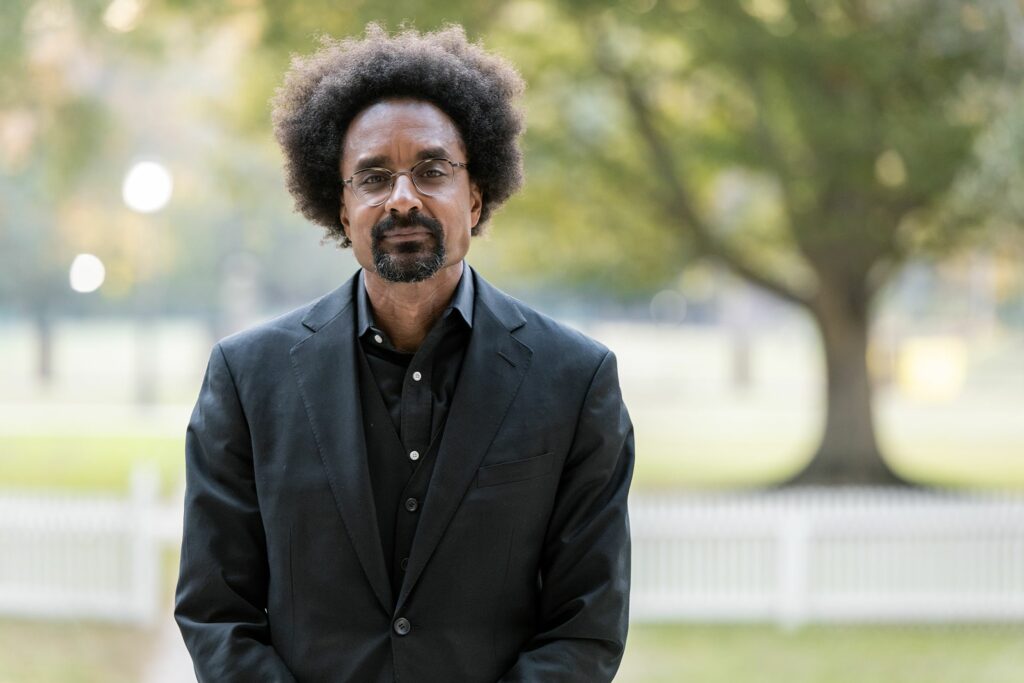 What first got you interested in history?
The first blame must go to good teachers who were also good story tellers. Well-stocked school and public libraries and the librarians who staffed were also at fault. Also, the stories on which I grew up that most sparked my imagination were historical in nature—between Alex Haley's Roots and NBC's Ba Ba Black Sheep—that had to have had some effect too.
What kind of reader were you as a child? Which childhood books and authors stick with you most?
As I child in Colorado Springs, I read every book in the school library on World War II. Maybe I missed a few. Still, when I moved to Houston (at about eleven years old), there were no books on the subject at my school or in my branch of the public library that I hadn't already read. I recall having to re-read The Battle of Britain. By the sixth grade, I was on to Michael Herr's Dispatches (1977) but by then I was also falling out of reading about war.
What book did you read in grad school that you never want to see again—and what book was most influential?
There are ways in which I'm still wrestling with Melville J. Herskovit's The Myth of the Negro Past (1941), Sidney Mintz and Richard Price's The Birth of African American Culture: An Anthropological Approach (1992), and Nathan Huggins's Black Odyssey: The African-American Ordeal in Slavery (1977). Mary Karasch's Slave Life in Rio de Janeiro, 1808-1850 (1987), Jan Vansina's Paths in the Rainforest (1990),and George Brook's Landlords and Strangers: Ecology, Society, and Trade in Western Africa, 1000-1630 (1993) were also quite influential. Wait, you said one book. There were so many great books!
What's the last great book you read, fiction or non-fiction?
I am a fan of Yaa Gyasi's Homegoing (2016).
When you're not reading for your particular field of history, what else do you like to read? What genres do you avoid? And what's your guilty reading pleasure?
Uh oh. Everything I read is related to my work. But I stream with the captions on. So I count that as recreational reading, and lately I've leaned toward sci-fi, alternative history, and super heroes on screen: Black Lightning, Raised by Wolves, The Expanse, The Man in the High Castle, Luke Cage. I should stop answering this question.
What do you read—in print or online—to stay informed?
The Atlantic, The New York Times, The Washington Post, The New Republic, the Houston Chronicle, and the New York Review of Books. But I still feel terribly under informed and uninformed. Maybe I don't read the news as carefully as I used to. But I also have this feeling that there is news out there that I can't find—that there is a universe of online writing that I haven't and can't tap into.
Describe your ideal reading experience (when, where, what, how).
All day in a full house of Byrds with brief stops for espresso, some stretches, sweets, and maybe a pizza.
What's your favorite book no one else has heard of?
I assume that I'm always a few years behind everyone else.
What book or collection of books might people be surprised to find on your shelves?
To save the other Byrds from embarrassment, I can't say. I don't think that people would suspect, though, that I had Robert Alter's translations of the Hebrew Bible here and there.
Disappointing, overrated, just not good: What book did you feel as if you were supposed to like, and didn't? Do you remember the last book you put down without finishing?
Writing is hard. I try to be patient with writers. So when I put a book down, it's usually less out of disappointment and more out of my schedule getting out of hand. There's a good book barely under my bed, and another on my night stand that I need to return to.
What book would you recommend for America's current moment?
This is not a bad time to pick up Cathy Park Hong (Dance Dance Revolution, 2007, and Engine Empire, 2012) and Hanif Abdurraqib (The Crown Ain't Worth Much, 2016, They Can't Kill Us Until They Kill Us, 2017, Go Ahead in the Rain: Notes on a Tribe Called Quest, 2019, A Fortune For Your Disaster, 2019).
What do you plan to read next?
Isabel Wilkerson's Caste: The Origins of Our Discontents (2020).
What is the next book you're going to write?
A story of three Houston schools that speaks to the inequities and promise of public education now. I've been writing this book too long (and it's too short to have taken this long). But I also think that parts of it are pretty good. It's a book about schools, but to write it, I've done more research on parking garages than I ever thought I'd have occasion to do.
When and how do you write?
Not enough. But I'm learning to fit it in however and whenever I can. It's taken me too long to learn this lesson.
With which three historic figures, dead or alive, would you like to have dinner?
I never have a good answer to this question. One of the great things about being a historian is that one is forever having dinner, or coffee, or breakfast with historic figures dead or alive.