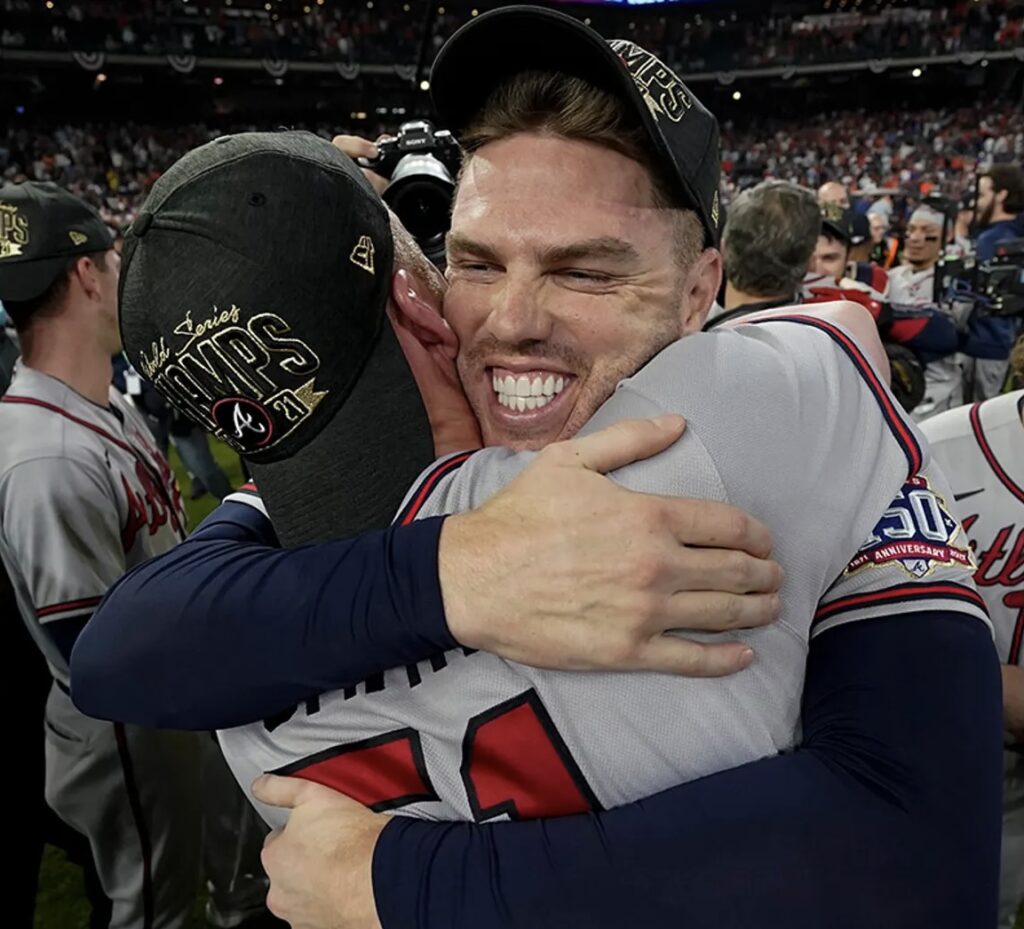 The baseball season ended Tuesday night in the most improbable way imaginable. Our Atlanta Braves won the World Series. I honestly didn't think I might ever see those words again. It's been 26 years since, midway through my graduate years at the University of Florida, I watched them beat the Cleveland Indians 1-0 to claim their first title in Atlanta. That long-ago October evening has faded to a distant memory, but not the pain of losing the next year after going up 2-0 in the Series against the hated Yankees, only to lose the next 4 in a row. The Braves never really came close to winning it all again. Until now.
I don't need to recount to Atlanta and UGA sports fans the dangers of counting championships before the game or series is completely over. And I won't do it here. But when the last out was recorded on Tuesday night, Dansby Swanson to Freddie Freeman, the overwhelming emotion I felt was one of relief. Other fans I'm sure can relate without any explanation needed.
This Braves team will obviously always be special. Unlike the 1995 team, no one predicted them to win anything, except perhaps the National League East again. By mid-season their underperformance made even that unlikely. The story of the mid-season acquisitions at the trade deadline that remade this team has been told and re-told elsewhere. Their winning without ever seeming as if they possibly could is part of the greatness of this year. The season felt like it was put together with duct tape and baling wire.
But for me, this year's edition of the Braves is special for another reason entirely. This was the last Braves team that my father—a Braves lifer—ever watched. He died peacefully at his home on Sunday, September 5, a month from his 89th birthday, quietly drifting away as "the sun gradually wheeled his broad disk down into the west," as Washington Irving so eloquently put it.
In the last month of his life, my father stopped watching his favorite TV shows; he stopped reading his Westerns; he stopped following the news. The only thing that he didn't put away as he prepared to go was his love for the Braves. They were on and winning—9-2 against the Colorado Rockies—on the afternoon that he died.
That these Braves would go on to win the big prize in the same autumn as his death seemed cruel and yet somehow poetic. Each step that brought them closer to the summit—from Freddie Freeman's improbable home run against Josh Hader and the Milwaukee Brewers, to Eddie Rosario's game-winning homer against the Dodgers, to his impossible catch in Game 4 to put the Braves up 3-1 against the Astros—confirmed that something magical and yet mystical was happening right before our eyes. The Braves weren't doing this alone. As I mourned my father missing it all, I sensed that he wasn't missing a thing. As one reporter noted after Rosario's game-saving catch, there seemed to be angels in the outfield.
Baseball's passing every year brings a sadness with it, but this season's end brings more melancholy than usual for me. This year's Braves will always be the last upon which my father's eyes rested.
Baseball will come back in the spring. It always does. There will be new prospects and predictions and expectations. In the new season, any team, at least on Opening Day, might be champion.
But something will be missing next Opening Day. The irreplaceable man who taught me how to throw and hit a baseball won't be there to see it.
He had, throughout his life and especially in his final days, "the capacity to wear glory with grace," as Jesse Jackson so movingly said in his eulogy of Jackie Robinson. For me, this championship season will be forever linked to my father who, just as the leaves began to change and the days grew shorter, stole away home, and, like the Braves, ascended to glory.
I bet he had the best seat in the house.