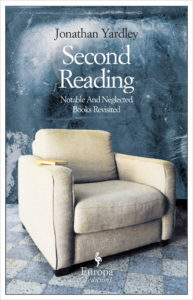 Second Reading: Notable and Neglected Books Revisited by Jonathan Yardley (Europa Editions, 2011, 351 pp.)
Jonathan Yardley served for almost a third of a century as one of the great book reviewers at the Washington Post. The other of course was and still is Michael Dirda. They are two of the foremost literary critics of our time and between them, their books will lead you on to countless other literary treasures, both well-known and obscure.
For nearly seven years between 2003 and 2010 Yardley published longer essays about "notable and/or neglected books from the past" in a Post column with the same title as this book. He ultimately wrote 97 essays, 60 of which appear in this volume, while the remaining 37 are conveniently available at www.neglectedbooks.com.
Yardley delightfully meanders his way through these 60 titles, only five of which I've read already but I'm happily adding many others to my list, including: Reveille in Washington, 1861-1865 by Margaret Leech; The Dreadful Lemon Sky and the rest of the Travis Magee novels by John D. MacDonald; The Reivers by William Faulkner, Notes of a Native Son by James Baldwin, as well as others by Nora Ephron, Roald Dahl, John Cheever, Timothy Crouse and H.L. Mencken.
While Dirda's style is light and friendly (I've extolled his virtues elsewhere on this blog), Yardley is curmudgeonly and refreshingly grumpy. Some of his juicier bon mots: Gore Vidal and Henry Adams are "overrated and unreadable"; David Baldacci and Allen Drury write in "execrable prose"; Joyce's Ulysses is "a book I simply cannot read." He proclaims J.D. Salinger's Catcher in the Rye one of the worst books in American literature: "the combination of Salinger's execrable prose and [Holden] Caulfield's jejune narcissism produced effects comparable to mainlining castor oil." In the space of a single review of a Rose Kennedy biography in the Post but not in this book, Yardley called her cold, controlling, spoiled, petty, self-indulgent, shallow, vain, and uptight, while Kennedy advisor Arthur Schlesinger, Jr. was "assiduously sycophantic," and the book itself littered with "clunky, clotted, graceless prose."
Well, harrumph.  But it's so much fun to read.
The Post published Yardley's last column on December 5, 2014, but here's hoping that many of the other reviews he wrote over a 33-year career will be published in book form as well.
All of this makes me wonder: when Dirda follows Yardley into retirement, who will fill the shoes of these two literary giants? Are there other great book columnists out there I don't know about?