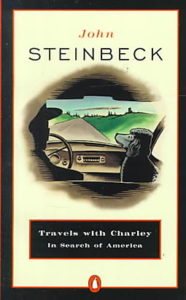 John Steinbeck, Travels with Charley: In Search of America (1962, Penguin Books, 277 pp.)
John Steinbeck is considered to be one of the foremost authors of the 20th century, keeping company with Hemingway, Faulkner, and Fitzgerald. Most of us make our first (and perhaps only) contact with Steinbeck in Of Mice and Men (1937) in high school, or in The Grapes of Wrath (1939), for which he won the 1940 Pulitzer Prize for fiction.
In 1962 he won the Nobel Prize for literature, though many thought his best work was decades behind him. He died in New York five days before Christmas in 1968, nearly 50 years ago, at age 66.
Long before "On the Road" with Charles Kuralt, and three years following Jack Kerouac's novel of the same name, Steinbeck set out in the fall of 1960 to re-connect with America and its people. Having lived and worked for so long in New York, he felt he'd lost touch with "real" Americans.
In order to travel anonymously as much as possible so that people would talk freely with him, Steinbeck bought a three-quarter-ton pickup truck, had a camper built for its bed, christened it "Rocinante" after Don Quixote's famous steed, and set out on the highway with his French poodle Charley on a trek that took him from Maine to California. The camper kept him from signing hotel registers, and he claims never to have been recognized by sight.
Along the way he met and talked with ordinary people, slept in Rocinante under the stars and found that the America of his youth and that he had always believed in was still out there. He visited New Hampshire farmers and Yellowstone National Park, always with Charley as his faithful companion: "It is my experience that in some areas Charley is more intelligent than I am, but in others he is abysmally ignorant. He can't read, can't drive a car, and has no grasp of mathematics. But in his own field of endeavor, the slow, imperial smelling over and anointing of an area, he has no peer. Of course his horizons are limited, but how wide are mine?"
He published the results in 1962 as a work of non-fiction, and critics raved that it was his best work in years. It's great fun to read, and you can still see the truck and Rocinante at the National Steinbeck Center in Salinas, California.
But is it really non-fiction? A few years ago a dedicated researcher uncovered that most of it wasn't, that Steinbeck slept many nights not in Rocinante but in luxury hotels, that the characters and dialogue were largely fiction, and that not only Charley but also his wife Elaine accompanied him much of the way.
This may all be true, but I'm not sure it really matters. What Steinbeck describes—and what he claims that he found universally among the people he met along the way—is a longing and a desire to get away from where we are, to go elsewhere, to be somewhere, anywhere, rather than where we are. "They spoke quietly of how they wanted to go someday, to move about, free and unanchored, not toward something but away from something."
That still seems as true now—for us an individuals and maybe for the country as a whole—as when Steinbeck wrote it nearly 60 years ago. Even as I read, I fell into the trap of thinking that the early 1960s seemed preferable to the times in which we live, that Steinbeck's America wasn't filled with hyper-wired know-it-alls who are divided hopelessly into partisan tribes.
But of course I know better. The past always looks seductively more understandable and simple than our own times, just as another geographic space seems to offer more or less, depending on what you want, than where we stand now.
Travels with Charley—be it fiction or non-fiction—confirms that humans as individuals and as nations are universally restless and unsatisfied, that we always want to go someplace else—in time and/or space—that promises either to bring something back that's missing or to offer a more fulfilling life than the one we live now. Isn't this why I play the lottery every week?
As Steinbeck wrote and acknowledged himself, "our capacity for self-delusion is boundless."