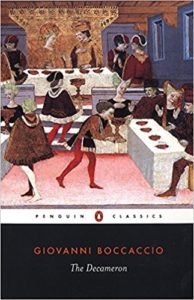 Giovanni Boccaccio, The Decameron, translated by G.H. McWilliam (Penguin Classics, 1995, 909 pp.)
The latest entry in the "100 Greatest Books Ever Written" is Giovanni Boccaccio's The Decameron. Written between 1349 and 1352, it's one of the most important works in Renaissance literature. This is a big book, with enormous influence on everything that came after.
Don't be put off by the size of this book, however, or the fact that it was written over 650 years ago—it's great fun to read. With the Black Death—the bubonic plague—rampant in Florence in 1348, ten young people (seven women and three men) flee to a country estate and settle in to wait out the scourge. To entertain themselves, and with no Wifi, they each tell a story with a different theme every day for ten days—hence the title.
The Decameron is a group of tales united by a frame story, a literary device familiar to anyone who ever took a high school lit class and had to read Geoffrey Chaucer's The Canterbury Tales, written forty years later. Chaucer's pilgrims, like Boccaccio's young folks, each take turns telling a story on their journey.
One of the most famous examples of a frame story is The Thousand and One Nights (or The Arabian Nights), which precedes both Boccaccio and Chaucer by centuries. This collection of largely Middle Eastern and Indian stories is told by Scheherazade, married to a king who puts his wife to death each night. The heroine avoids death by telling him a different story every night and leaving her tale incomplete till the next day, thus avoiding her cruel fate.
The one hundred tales that make up The Decameron are by turns funny, bawdy, tragic, heroic, and of course romantic. The work was first circulated in manuscript until the invention of printing in the 15th century with Gutenberg's press, and the first printed edition appeared in Florence in 1469. It's never been out of print and influenced humanist Renaissance scholars for centuries after.
As with all books like this, the proper translation is everything. If you're reading Homer's Odyssey, try the translations by three classical scholars of towering reputation: Robert Fagles (1996), Robert Fitzgerald (1961), and Richmond Lattimore (1967), all still available and all elegantly written. Better yet, check out the newest translation by Emily Wilson, who made history in 2017 as the first woman to publish an English translation of the Odyssey after more than 60 translations by males since the first appeared in 1615.
G.H. McWilliam's translation of The Decameron in this Penguin Classics edition, first published in 1972 and updated in 1995, is perfectly pitched to entertain and delight. The tales are translated into modern English, and though he no doubt takes some liberties, the result stands as a modern classic. It's little wonder they've been continuously read for six and a half centuries.