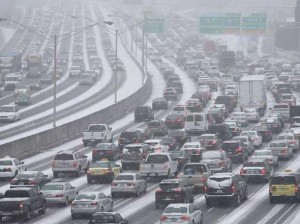 As I write, Atlanta is bracing for the second fall of snow in the last two weeks, and after the debacle last time, the nation is watching to see if city and state leaders are any better prepared for the latest few inches/avalanche/ice storm. Most Atlantans seem to have made it easier on them by simply staying at home and off the roads before the first snowflake even falls.
It's very easy to poke fun at Southerners and what happens when it snows on them. I myself, born and raised in metro Atlanta, have been doing it all my life. Unlike most Southerners I know, I actually like cold weather. It's so hot down here for most of the year —particularly in Savannah, where I live now—that when it does get cold, I enjoy it.
And it never lasts very long. Winter here in Savannah would pass as a mild autumn everywhere else. I absolutely detest—detest—hearing a meteorologist say in winter that "It's going to warm up nicely!" We get enough of that during the other 9 months of the year, and we're not going to get any correspondingly cold days in August to make up for warm January days. Let it stay cool for a day or two. Give us a chance to break out those sweaters or LL Bean fleece jackets we never get a chance to wear.
True, we very rarely get really, really cold weather—like single digits—but everything is relative. When you're used to 90 degrees, 50 is chilly. 30 is really cold. The teens are frigid. All of it—cold temperatures, snow, ice—happens so rarely even in the coldest months that when it does, our bodies, our roads, and our psyches just aren't prepared for it.
Few Southerners I know have the proper clothes for really cold weather, and many times in the winter you have to bundle up even indoors. I live in a house that is over 60 years old, and believe me when I tell you that no builders in the early 1950s in Savannah were spending any money on insulation for the walls and floors. When outside temps dip into the 30s, the house turns into an icebox very quickly and the heater struggles to keep it in the 60s inside.
Even most Southerners who don't like cold weather, however, still get excited at the prospect of snow. It happens so rarely in our lives that it's like Christmas for small children. The best snowfalls are those that come in after midnight but before morning: everyone's home from work and school, off the roads, snug in bed and warm (if the power doesn't go out) and you awake to a winter wonderland.
It means missing school or work for a few days, maybe playing outside in it if enough snow falls, and because it warms up so quickly, we never have to shovel it, salt it, scrape it, or plow it. Hold your breath and it will be gone in 48 hours. During some weeks in February in some towns in the South you can play in the snow on Monday and go to the beach on Friday during the same week.
Part of the fun—and terror—of snow in Georgia is that Atlanta TV stations now cover the "storm" as if it was the D-Day invasion. It's non-stop, wall-to-wall coverage that can only be possible in the age of the 24-hour news cycle:
"Channel 2 Action News reporter Sandra Slushy reporting live from Cobb County, where businesses and stores remain closed and nothing is happening. Now out to Dolph Dutlinger in Gwinnett. Dolph?"
"Thanks Sandra. As you can see from the streets behind me, nothing is happening. Residents here have been indoors since the last storm ended two weeks ago just in case such a terrible thing ever happened again. And we at Channel 2 Action News have been reporting live 24-hours a day since the last storm ended, ramping up anxiety and fear about the 2 inches of snow that might, indeed, one day fall again here in Georgia, and the chaos that would ensue if such a thing ever did happen. Now on to Dekalb County, where reporter Lotta B. Essen has confirmed reports of nothing happening there either."
And on and on and on for hours. At that point you wish the power would, indeed, go out.
There have been three major winter storms of historic proportions in Georgia in the last 40 years (before the most recent, which I would argue wasn't a bad storm, just bad timing and planning): the ice storm of 1973, SnowJam '82, and the Storm of the Century in 1993.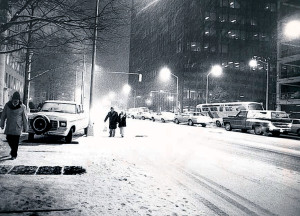 The storm of 1982 was virtually unprecedented for the Deep South because the temperature had been in the 20s for days before the snow arrived on Tuesday, January 12. Every snowflake, as we say, stuck. The ground was frozen solid long before over 6 inches of snow fell that afternoon beginning at 2 p.m. without much warning at all—no internet, no Weather Channel—and the commute home that day was, for many Atlantans, the worst of their lives–until January 28 of this year.
I say that the storm arrived without much warning, but here's the other thing about Southerners and snow—it doesn't matter how much warning you get, you never actually believe it's going to happen. If you grow up in the South, you are tantalized too many times by the threat—or promise, if you're young—of snow, only to have it turn to rain or, worse, sunshine when the big moment comes. So a Southerner's first instinct is just to ignore winter storm warnings because they usually turn out to be nothing.
In 1982, I was a senior in high school and got sent home early that afternoon from my after-school job delivering office supplies. Most other commuters didn't, and by the time they all ran out of their offices at the same time to start driving home on the already-frozen roads, disaster struck. Snowjam 82 had begun.
My brother Jeff picked that afternoon to go shopping at Lenox Mall, and when he walked outside to come home—a drive that might normally take an hour in bad traffic–there were already several inches on the ground. It took him over 8 hours to get home that night, and the only reason he made it was due in large part to the front-wheel-drive Honda he owned. He managed to creep along, driving through ditches and around abandoned cars and never stopped. With no cell phones then, we didn't know where he was until he drove up the driveway and into the arms of my frantic mother shortly before midnight. He was one of the lucky ones. Most drivers had to abandon their cars or sleep in them.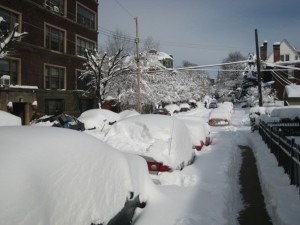 Temps that night dropped into the teens and stayed there for days, followed by more snow, and it was a week before life returned to normal. Typical up North, of course, but very unusual for Georgia.
On Saturday, March 13, 1993, the "Storm of the Century" dumped up to 17 inches of snow on some parts of metro Atlanta, which was, needless to say, record-breaking. It was all gone in two days, however, and unlike the storm of '82, this one arrived late on a Friday night and into the wee hours of Saturday morning and didn't disrupt life very much.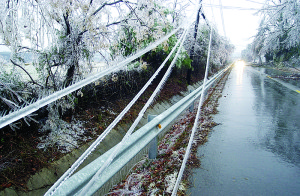 Not like the ice storm of 1973. On Sunday, January 7, a cold rain started falling and quickly turned to ice. First limbs and then pine trees and power lines started falling all over Atlanta, turning roads into an icy mess and leaving hundreds of thousands without power and heat. Out in Snellville, my family huddled in the darkness without power, listening to limbs crack and trees fall, waiting for one to hit our house. My parents lost almost 20 pine trees on less than one acre, leaving a mess of epic proportions for us to clean up. But miraculously, not one of them landed on our house.
One other thing I remember about that ice storm: dragging pine limbs out of your yard is hard, heavy work; dragging pine limbs out of your yard that are covered with frozen pine needles is very hard, heavy work.
So Southerners don't deal with bad winter weather very well. No surprise. We simply don't get it very much.
I mentioned that un-insulated houses can get cold in the winter. The same is true in reverse in the summer of course: with no insulation, even the best air-conditioners can barely cool the inside air to more than 20 degrees less than outside. That can get uncomfortable in a hurry.
Which leads me to observe that while Southerners may go off our collective coconuts when it snows, we are used to heat, and lots of it. Not so in other parts of the country.
It's always amused me that in the summer, when the mercury hits 90 degrees for two consecutive days in Chicago or New York, it makes the national news. People actually start dying from the "heat." Residents are urged to use caution when moving around outside, told to drink lots of fluids and not to over-exert themselves, and should check on elderly neighbors who may be shut-in.
Hot weather is worse on our Northern friends, they tell us, because they aren't "used to it," and don't deal with it well because often their homes and businesses don't have air-conditioners because most of the time "they don't need it" and it's not worth the financial investment.
Does that sound familiar? That's what we say about snow: we don't get it much or aren't used to it when we do, and we don't spend money—our own or taxpayer funds–on snow plows or snow shovels because we don't need them.
Needless to say, it doesn't make the national news when the thermometer hits 90 degrees in Savannah. It can do that in mid-February and stay there till you're singing Olde Lang Syne.
Stay inside? Even as the heat index on some days soars past 110, roofers continue working on dark-shingled roofs, street pavers continue laying down black asphalt, and everyone routinely endures temperatures for 6 months that would blow the power-grid of the entire northeast if it had to endure it for more than two days. It's not uncommon to go to bed at midnight with the temperature still past 90. And it never makes the national news.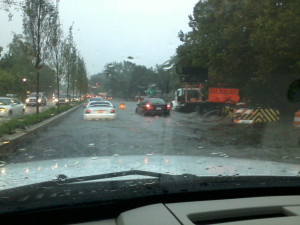 Then there's the bonus: oppressive heat usually leads to torrential, monsoon-like afternoon rains here that can drop 5 inches of rain on the city in 15 minutes during the afternoon commute. Schools are not cancelled and businesses don't get out early. We drive through it and around it.
If that happened in some places farther North during rush hour it would bring the city to a standstill and would be known forever after as "The Great Rainstorm of '14." It happens here 3 times a week for months on end without comment.
The other thing that won't make the news: the stultifying humidity and the ever-present gnats and mosquitoes that can turn lowcountry summer evenings outside into a tortuous exercise in survival.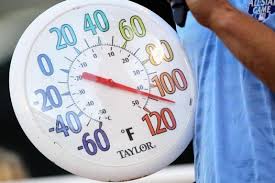 Working out in your yard on a July evening, for instance, when the temperature has finally dipped to oh, say, 93, is an experience that cannot be adequately described. It simply has to be felt. Why gnats are drawn to your ears I don't know (moisture?) but trying to keep both hands on the lawn mower while they cover your ears, mosquitoes devour your extremities, and sweat drips into your eyes can be a level of hell that even Dante never imagined.
As a historian I've read a lot about the "hardy New Englanders" who endured the harsh winters to settle in the Northern climes, but I can only imagine the fortitude it took to endure the 18th-century lowcountry summers without air-conditioning, fans, or screened windows. Simply drawing your next breath would have earned you a Purple Heart.
So while the snow falls, flake by flake, on our friends in Atlanta now, it's easy to giggle about their over-reaction and the media's hyper-ventilating over a little inclement weather.  Some might gloat over the fact that our northern neighbors will still be working their snow-shovel muscles in April while we're all working on our tans, but I'm not one of those. Remember, I like cooler weather, and I dread the coming of heat and humidity the way some folks dread a thermometer below 50.
It's 36 degrees outside, cold, and rainy right now in Savannah, and I love it. Pardon me while I run outside to enjoy this beautiful weather. If I don't dash out now, by the time I finish this post it may be 85 and sunny. Who needs that?