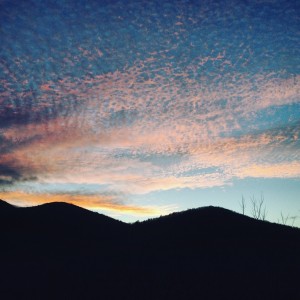 Blessed with a 4-day pass over the last weekend in February, I made tracks for the Blue Ridge Mountains of north Georgia. Ralph Waldo Emerson wrote that "in the woods we return to reason and faith. There I feel that nothing can befall me in life, no disgrace, no calamity, which nature cannot repair. " Couple that with fellow Transcendentalist Henry David Thoreau's dictum, "I love to be alone. I never found the companion that was so companionable as solitude," and you will understand why the mountains are a constant destination.
On that Saturday I awoke to a gloriously sunny late winter day, so with bike in tow I drove over the Richard Russell Parkway to Smithgall Woods. If you've never been, you're missing out on one of our state's great natural treasures. I would say it's a well-kept secret, but I'm not sure that's true, and even if it was, here I am telling you about it. But it's undoubtedly much less used than either Unicoi or Vogel, two nearby state parks that are more widely known.
The official name of the park is Smithgall Woods – Dukes Creek Conservation Area. Its 5,664 acres (compared to 233 acres at Vogel and 1,050 at Unicoi) have their own charm, and unlike other state parks, if you don't like being out in the woods,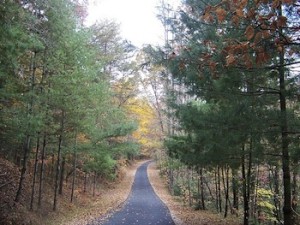 it's probably not going to be your cup of tea. But if you agree with Emerson, it doesn't get much better. Not to mention, a river runs through it. Or, to be more precise, the restorative waters of Dukes Creek.
Smithgall Woods was acquired by the State of Georgia in 1994 from Charles A. Smithgall, Jr., and dedicated as a Heritage Preserve under the Georgia Heritage Act of 1975. Its 5 miles of trails and 18 miles of roads (paved and unpaved) are ideal for hikers or bikers.
On my first trip there last August, I biked 4 miles in on Tsalaki Trail, all the way over to State Hwy. 75 outside Helen, and then back out again. It was quite strenuous. Downright lungbusting. Even on a somewhat cool and overcast August day I was a sweaty mess. The ups and downs of the hills were calorie burners, and though I'm in good cardio shape, it was still a tough workout for this lowcountry rider. Those kinds of hills—nay, Silas, any hills—simply don't exist in Savannah.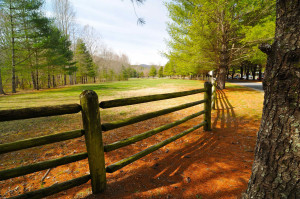 Six months later, with backpack, book, and journal strapped tight, I was simply looking for a great way to spend a beautiful winter afternoon outside. I found it.
After huffing up the initial hill that leads away from the visitor's center, I stopped first to say hello to the Smithgall bee farm. Even on a chilly afternoon the little fellas were buzzing around in superior numbers, preventing me from moving in for a closer look, which was probably for the best. They didn't mind posing for pictures, though.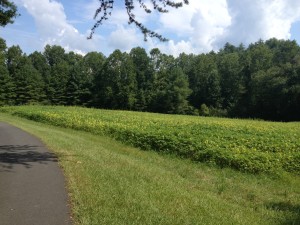 A little farther on I parked my bike by the side of a field that in August (pictured at right) was bursting with blooming sunflowers but that now lay dormant. I spent a golden half hour writing in my journal, noting and describing the beauty all around me, listening to the rushing sound of Dukes Creek just beyond the meadow.
Dukes Creek has been rated one of the top 100 trophy trout streams in the country, and its meandering waters lie at the heart of the park. I found myself stopping repeatedly on my bike ride to just sit beside it. It's more like a river than a creek.
You don't have to be a fisherman to enjoy it, either. I'm not, and I spent the better part of the day sitting on its banks listening, pondering, reading, watching, writing, thinking. Every so often I'd meet a fly fisherman wading through the waters, and we'd nod to each other. Some of them must have wondered what the guy on the bank was writing about in his notebook. I enjoyed their silent company and appreciated that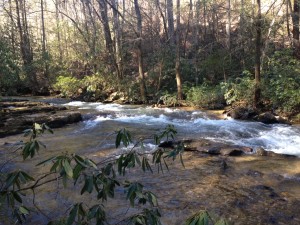 each of us was ultimately there for the same reasons though doing different things. Thoreau told us it's not what you look at that matters, it's what you see.
Sitting beside picturesque Bay's Bridge as the cascading creek tumbled by beneath, over rocks glinting in the lowering afternoon sun, I realized: I need to come back here, to these mountains, these woods, this water, in every season, for as long as I can. As a wise man once said, there may be more to learn from climbing one mountain twenty times than from climbing twenty different mountains. I'll never be finished here.
Yes, Stan, this is all lovely, but we're busy people here. Is there anything really to do there? My answer is that it all depends on what you mean by doing.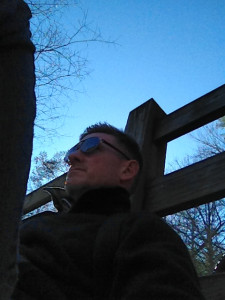 As writer Roger Cohen thoughtfully noted, "too often we confuse activity and movement with accomplishment and fulfillment. More may be gained through a pause."
This doctor's advice: Take a moment sometime soon and visit a place like Smithgall Woods. If not there, someplace like it, near or far from where you live. Our state—indeed, our nation—has a wealth of such places set aside for us.
To paraphrase John Muir, he who experiences the blessing of one mountain day is rich forever. Go collect your winnings.