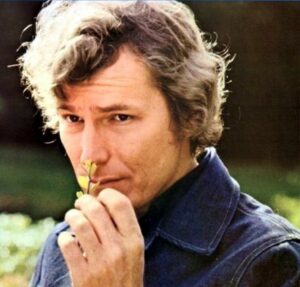 "Does anyone know where the love of God goes when the waves turn the minutes to hours?"
Gordon Lightfoot died on Monday, May 1, a transcendent singer and songwriter and one of the most talented and iconic musicians in the second half of the 20th century. I have loved his music from the moment I first heard him 50 years ago. His songs, like "Sundown," "Carefree Highway," "If You Could Read My Mind," "Rainy Day People," "Early Morning Rain," "The Watchman's Gone," were all lyrical and deeply poetic, sung in that rich baritone voice, so easily imitable but impossible to replicate.
"The Wreck of the Edmund Fitzgerald" was nothing less than an epic poem set to music and served as the unofficial soundtrack to that time of year "when the skies of November turn gloomy." It rose to number 2 on the American Billboard charts, defying all norms of Top 40 standards with its length and arcane references to Lake Superior, Great Lakes shipping, and the legend that "lives on from the Chippewa on down." I have listened to the song a thousand times, with its haunting guitar riffs and the mesmerizing story of the fateful ship that sank in the "face of a hurricane west wind" on November 10, 1975, on the "big lake they call Gitche Gumee." Lightfoot, and many others, considered it his finest work.
He described himself as a songwriter in search of the "perfect poem" and to my mind, of all his compositions, "Song for a Winter's Night" stands alone as a supreme achievement, a beautiful portrait of the aching loneliness of a dark night of longing:
The lamp is burnin' low upon my tabletop
The snow is softly falling
The air is still in the silence of my room
I hear your voice softly calling
If I could only have you near
To breathe a sigh or two
I would be happy just to hold the hands I love
On this winter night with you.
(You should also check out this moving rendition by the Wichita State University School of Music.)
He was often hailed as a Canadian treasure—Geddy Lee, the lead singer of the Canadian rock band Rush, called him "our poet laureate," while musician Tom Cochrane said that "if there was a Mount Rushmore in Canada, Gordon would be on it."
But he really belonged to the world. As one critic noted, "It is impossible to explain the huge impact of Gordon Lightfoot on 20th century music. His songs were covered by everyone from Dylan to Elvis. His writing, imagery, and ability to create mood was without parallel."
His songs were deceptively complex, layered with symbolism that belied the lyrics about mundane relationships, wandering spirits, or the beauty of the Canadian woodlands. "Don Quixote," the heartbreaking "Bitter Green," "The Watchman's Gone," and so many others, lent themselves to deeper meanings for anyone who cared to find them.
There's a train down at the station
It's come to carry my bones away
Two engines on
Twenty-one coaches long…
As I leave you in the sunset
Got one more nothin' I'd like to say
'You don't know me
A son of the sea am I'
As I say to you, my brother
If you live to follow the golden sun
You better beware
Knowin' the watchman's always there.
If you find me feedin' daisies
Please turn my face up to the sky
And leave me be
Watchin' the moon roll by…
Drink Your Glasses Empty to this son of Orillia, Ontario, with the unmatched voice, who brought joy to so many with the gift of his song. Farewell and Godspeed, Gordon Lightfoot. We too have followed the golden sun.
The fire is dying
Now my lamp is growing dim
The shades of night are lifting
The morning light steals across my windowpane
Where webs of snow are drifting
If I could only have you near
To breathe a sigh or two
I would be happy just to hold the hands I love
On this winter night with you
And to be once again with you.