The Georgia Historical Society welcomed the inaugural class of Dooley Distinguished Research Fellows to the GHS Research Center in May. The Research Fellows Program, part of the larger Vincent J. Dooley Distinguished Fellows Program, honors Vince Dooley for his lifelong commitment to history and higher education.
The Research Fellows Program is designed to mentor the next generation of historians by giving younger scholars the opportunity to conduct research for a specific period of time in the vast collection of primary sources at the Georgia Historical Society Research Center. The research is expected to lead to a major piece of scholarly work, such as a dissertation, a book, an article in a refereed scholarly journal, a chapter in an edited collection, or an academic paper presented at a scholarly conference. Click here to learn more about the Dooley Fellows program.
For the next several weeks Off the Deaton Path would like to introduce our readers to the 2022 Dooley Research Fellows to learn about their work, their research at GHS, and the experience of being a Dooley Distinguished Fellow. This week we'll focus on Tracy L. Barnett, a Ph.D. student at the University of Georgia.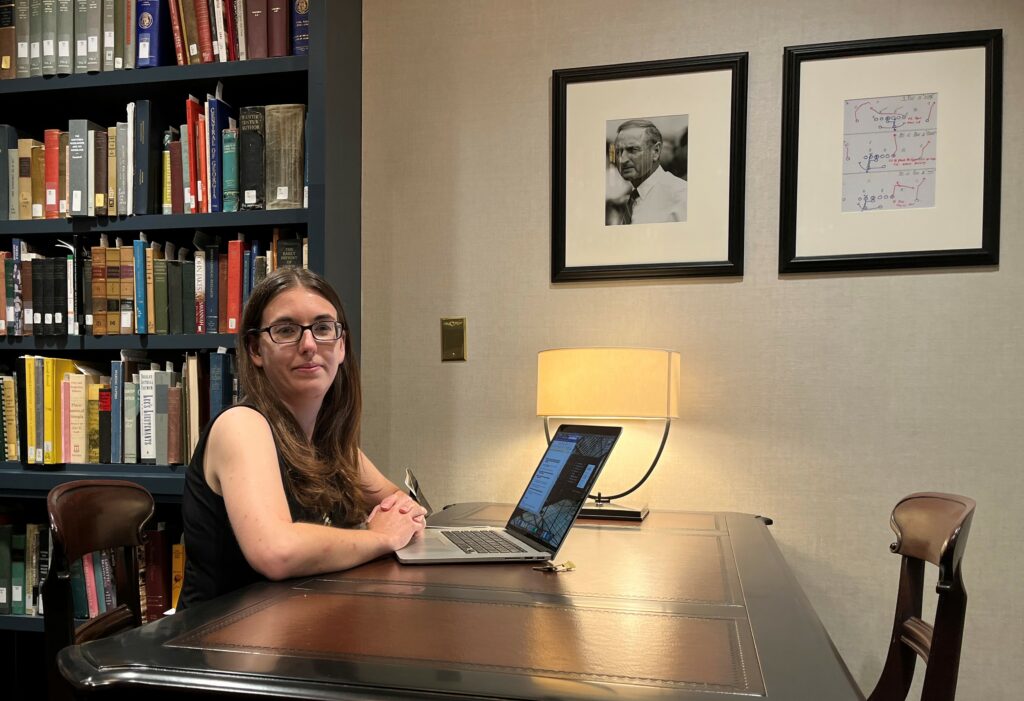 Tell Us About Yourself: I grew up near State College, Pennsylvania and completed my BA in History at Millersville University of Pennsylvania. Despite growing up in the northeast, I developed an interest in southern history and, in 2015, I moved South. First landing in Hattiesburg, Mississippi, I completed an MA in American History at the University of Southern Mississippi. Currently, I'm a doctoral candidate in History at the University of Georgia.
I aspire to bring well-researched and compelling-written scholarship to the general public. My research on the history of firearm advertising recently appeared in an article in The Washington Post. Likewise, my column on Civil War Era language is published quarterly in the Civil War Monitor, a popular magazine devoted to mid-nineteenth-century America. In addition to my studies, I work as a graduate assistant at the New Georgia Encyclopedia.
While I now reside in Washington, D.C., I'm slowly but surely writing my dissertation. The pandemic, no doubt, slowed the research process, and I'm thrilled to be back in the archives finishing my research! I hope to finish the dissertation in the next year or two.
I'm passionate about historical research and want to pursue a research-oriented career after graduation. Ideally, I would like a career in academia as a professor. That said, I'm also considering careers in policy, consulting, or public history.
What Interested You in the Dooley Distinguished Fellowship? What has your experience been like here at GHS?
The Georgia Historical Society (GHS) had a number of manuscript collections relevant to my research. And I sought a way to access these materials, so I applied for the Dooley Distinguished Fellowship.
My time at GHS has been exceptionally productive and inspiring! In addition to accessing so many helpful sources, I've loved discussing my project with GHS archivists and librarians. It was also great to bounce ideas off Dawn Wiley, who was also on fellowship at GHS. Savannah is such a beautiful and historic city, and I've enjoyed exploring and visiting some local historic sites while in town.
Tell Us About Your Current Project: Rifles—their meaning to men and their availability in nineteenth-century America—are at the center of my academic scholarship. My dissertation, "Men and Their Guns: The Culture of Self-Deputized Manhood in the South, 1850–1877," analyzes the historic origins of America's gun culture and its mutually constitutive relationship to White supremacist ideology.
Having spent considerable time in both the Northeast and South, I was eager to consider the connections between both regions during the nineteenth century. Firearms were central to the South's system of racial control and violence, but by the middle of the nineteenth century most of these lethal objects were produced above the Mason-Dixon Line. Northeastern gun manufacturers—including, but not limited to, the Colt Manufacturing Company, Remington Arms Company, and Winchester Repeating Arms Company—began mass producing firearms using industrial machinery. Mass production, however, created its own problems for these manufacturers: to be profitable, weapons needed to be produced and then sold in large quantities.
The South offered a market for these guns, and manufacturers aggressively marketed them to White southern men. The amorality of American gun manufacturers and the banality with which they sold their products to southerners directly contributed to the South's gun violence and the deaths of African Americans.
In the nineteenth century, White men were a uniquely empowered population in the South. At the pinnacle of the region's racial and gender hierarchies, these men held almost total control over society—they decided who was free and who was not. And as armed men, they held even greater authority—a type typically reserved for courtroom judges or law enforcement officers. The South never needed a robust, professional police force because they had an informal, civilian one comprised of armed White men. In order to protect and control White women and extract Black labor, White men considered it their rightful duty to regulate the behavior of enslaved people at gunpoint. Acting as judge, jury, and executioner, armed vigilantes policed and patrolled at the South in the form of slave patrols, militias, and the Klan. This custom of "self-deputized" manhood, I argue, originated in the South as a direct result of slavery and the inherently unequal power dynamics present in a slave society. Within this self-empowering climate, a White man with a gun was more than simply a citizen or voter; he was the unofficial lawmaker and law enforcer. His plantation was his jurisdiction; his whiteness was his badge. This self-deputized ideology proved deadly to Black men, women, and children.
What Are you Finding at GHS? I examined diverse collections while at GHS, and I'll highlight a few specific sources.
The Joseph P. White Collection (GHS 0860), in particular, was a source I was eager to examine at length. It contains an account book from a Reconstruction-era gun and locksmith business in Savannah, Georgia. For years, Joseph P. White diligently recorded his work—repairing a lock at a Freedman's bank; mending a double-barrel shotgun; replacing a flintlock pistol mechanism. The collection also contains several artifacts—a few pistols and several gun parts. Interestingly, two of these pistols were originally manufactured in Middletown, Connecticut, during the 1840s and, then at some point, repaired in Savannah.
The Mercer Family Papers (GHS 0553), likewise, proved a significance source of information on firearm usage in the American South.George Anderson Mercer had a fondness for hunting. On the first page of his journal, an ominous message loomed large: "Don't read the contents of a page, For fear that you'll provoke my rage." Below the text, George Anderson Mercer had carefully sketched a haversack, powder horn, and hunting rifle. A dead bird, with rope noosed tightly around its neck, lay at the image's center. Mercer, with a gun by his side, spent most of his boyhood days roaming through the plantation's cultivated fields and dense forests. Arriving at the edge of an old corn field, Mercer saw birds circling overhead. "I brought Sweet Lips to my shoulder, but relying upon the mettle of my piece I touched the trigger; the sharp crack, and the passage of the fatal lead, seemed to produce no other effect on the bird than to quicken his velocity." He, like many southern boys, learned to shoot and developed an attachment to his rifle.
I also mined the Savannah City Directories for references to "gunmakers" and "gunsmiths."The nineteenth century was a critical epoch for manufacturing,and especially the production of firearms. In the eighteenth and early nineteenth centuries, highly-trained gunsmiths carefully crafted customized weapons at the behest of individual civilian buyers. In localized shops across the county, artisans built and assembled rifles by hand; they drilled the barrel, forged the lock, assembled the trigger, and engraved the stock—a time consuming endeavor. As expensive products, few households purchased more than one gun. For well into the 1840s, small shops with under 20 employees supplied most southern and frontier households with weapons. This, however, gradually changed in the 1850s and 1860s as more firearms were produced in large, centralized factories in Connecticut, New York, and Pennsylvania. The Savannah city directories reflects this trend—the earlier years contain a longer list of gunmakers than the 1880s and 1890s.
In short, I found numerous useful sources at GHS, and they will feature prominently in my dissertation. It was a great privilege to pursue and complete my research with the support of the Dooley Distinguished Fellowship! Thank you!