Off the Deaton Path would like to introduce our readers to some of the scholars researching in the Georgia Historical Society's newly expanded and renovated Research Center. This week we'll spotlight Matthew Kelley, the Graduate Project Coordinator at the Center for the Study of War & Society at the University of Tennessee, and a Ph.D. candidate in the University's History department.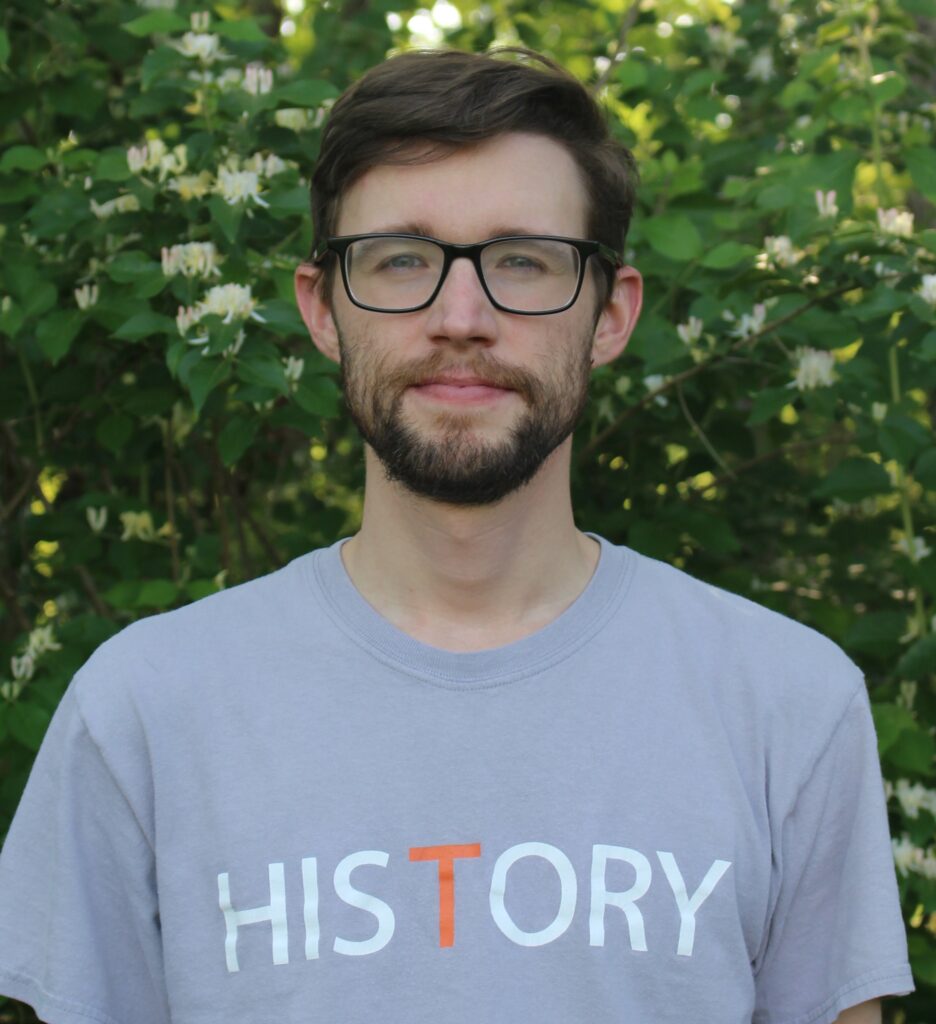 Tell Us About Yourself: I was raised in Corbin, Kentucky, a small town in the eastern and Appalachian part of the state. Though the town is surrounded by natural beauty, it is probably better known as the "Birthplace of Kentucky Fried Chicken," where Harlan Sanders first tried his luck in the restaurant business during the Great Depression.
I attended the University of the Cumberlands in Williamsburg, Kentucky, for my undergraduate degree and graduated summa cum laude with a B.A. in History and Political Science. I went on to attend the University of Tennessee-Knoxville and completed my M.A. in Modern European History. I am now working towards my PhD, specializing in World War I, nationalism, and civil society. I am currently writing my dissertation under Dr. Vejas Liulevicius.
I also currently serve as the Associate Director for the University of Tennessee's Center for the Study of War and Society. Our mission is to preserve and research the stories of the people in our region and their experiences with war from 1700 to the present day. We have one of the oldest oral history projects dedicated to interviewing military veterans in the United States. Along with working on my dissertation, I am completing a digital memorial project with the Center, including biographical profiles of all UTK students, alumni, and staff killed in action from the First World War to the present day.
Tell Us About Your Current Project: My dissertation investigates German agitation within Swiss civil society during the First World War. Whereas the Swiss state stayed defiantly neutral over the course of the war, the public of the country was alive with activity. Pro-German and pro-French sympathies ran throughout the country to the point that many officials feared open, civil confrontation from 1914 to 1918. Germans, whether members of the imperial government or private individuals aligned with it, sought to capitalize on this situation for the benefit of their war effort. My research particularly focuses on Swiss voluntary civic associations as an arena for this agitation. From alpine hiking clubs to the Red Cross, I am looking at a diverse range of organizations that the Germans attempted to sway. In addition, I am curious about how their tactics and rhetoric changed over the course of the war, especially as the tides began to turn against them in 1917.
As an undergraduate, I developed a passion for service leadership in my community and often spent my spare time volunteering with organizations. One such group was called Mountain Outreach, a Habitat for Humanity-type organization that was specially focused on my region of central Appalachia. This area is one of the poorest in the United States, and I observed first-hand how these civic associations stepped up to provide aid and fill gaps in ways the government had either failed at or simply ignored. This background, along with my interest in the story-telling and methodology of history, has informed my research.
I chose this topic initially out of a curiosity that there must have been more to the story of Switzerland's role in the war than it simply being an aloof neutral country. Though the state was pledged to neutrality, an investigation of the activities within civil society yielded evidence that civic associations were an active force in shaping the nature of the war. They also worked through social networks that crossed political boundaries even at a time when borders were physically marked with trenches and fortifications. I hope that my finished project will offer a fresh, transnational approach to World War I and the role of neutrals and might even leave readers with some food for thought in regards to the important role that civic associations hold in society and the power they are able to wield.
What Are you Finding at GHS?: "Why is a scholar in Modern European History at the Georgia Historical Society?" It is true that most of my research is European centered, in the German or French language, and seems to have nothing to do with Georgia history. However, the coronavirus has placed unusual limitations on international research, and I have spent the time looking for creative avenues for research until restrictions begin to ease. One of these paths has led me to the Georgia Historical Society, which houses the papers of Pleasant Alexander Stovall, who was the United States Ambassador to Switzerland during the war (MS 1021). Ambassador Stovall grew up in Augusta, Georgia, and started the Savannah Press newspaper. A boyhood friendship he developed with President Woodrow Wilson led to his appointment as Wilson's trusted eyes and ears in Switzerland in 1913, just before the beginning of the war. When he returned home from his post at the end of the war, Stovall brought back wartime documents from the US embassy in Berne and placed them in his personal collections.
My research at GHS focuses on these documents brought back by Ambassador Stovall to see what information the US embassy collected on German agitation in Switzerland during the war and how serious a threat they gauged it to be. Stovall was a staunch, pro-Entente sympathizer from the beginning of the war in August 1914, while the United States itself was still a neutral country. He had a keen interest in German agents and kept Washington informed of these activities. His collection preserved several communications with President Wilson on German activity, and he made careful notes on the movement of Swiss public sympathies throughout the war. This was what I was expecting to find, but there were many surprising sets of documents that I discovered in his papers that has since sent my research in entirely new directions.
Ambassador Stovall wrote a book after the war titled Switzerland and the World War. Though I am sure he meant it as a historical account, the book is really a rather biased, autobiographical recollection of his time at the embassy in Berne. In the book, Stovall mentions as an aside a case where a German spy was caught in France with forged documents that were supposed to mimic ones that were given out by the American Embassy in Berne to American travelers seeking access to France from Switzerland. He labels it an odd mix up and leaves it at that. However, a folder of documents tucked away in his private collections proves an entirely different story. The truth behind this case reveals a network through which the German Espionage Department used the International Red Cross to move agents masking as convalescing wounded officers to enact agitation. What I have yet to determine though is to what degree American officials might have succumbed to the agitation to be persuaded to directly help these agents along their route.