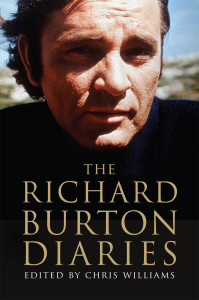 The Richard Burton Diaries. Edited by Chris Williams. New Haven: Yale University Press, 2012. $35.00. 693 pp.
"Do you really keep a diary? I'd give anything to look at it. May I?" So asked Algernon, to Cecily, in Oscar Wilde's The Importance of Being Earnest.
Reading someone else's letters and diaries can be a great guilty pleasure. What people choose to say about themselves in their diaries can tell us a great deal about who they thought they were and, usually, what they wanted the world at large to know about them. Because let's face it, everyone who keeps a diary knows that at some point someone besides themselves is going to read it. So one chooses very carefully what to put in and what to leave out. The very act of keeping a diary or a journal is an act of self-selection, self-editing, and self-censorship.
Richard Burton was one of the most gifted actors of his generation. He was born in Wales in 1925 and died in Switzerland of a stroke at the age of 58 in 1984. Years of hard living, primarily booze and cigarettes, took their toll. He was one-half of one of the most famous Hollywood couples in history, having been married—twice—to Elizabeth Taylor. And he had a reputation of being an enormously talented artist who squandered that talent on lesser roles because of alcohol, women, laziness and lack of ambition. Why, one might ask, would anyone publish his diaries 30 years after his death, and why would anyone want to read them?
Because they are absolutely fascinating. Most good diaries are. Samuel Pepys was a government clerk, but his diary is still widely read 300 years after his death ("I went out to Charing Cross to see Major General Harrison hanged, drawn, and quartered; he looking as cheerful as any man could in that condition.")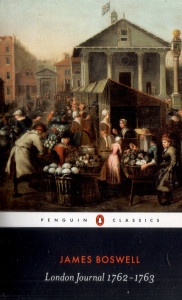 James Boswell's journals—the famous biographer of Dr. Samuel Johnson—were long thought to have been lost but were rediscovered at Malahide Castle in Ireland in the 1920s 150 years after his death, and they are still being published. When Boswell's London Journal was published in 1950, it became an immediate world-wide best seller, much to the surprise of the publisher and editor. There's something voyeuristic about us, and reading other people's diaries, letters, or emails is almost irresistible, particularly when the juicy parts are left in, as when Boswell accused his mistress Louisa of giving him gonorrhea: "Madam, I have had no connection with any woman but you these two months. Such a thing in this case is worse than from a woman of the town, as from her you may expect it. You have used me very ill. I did not deserve it."
Richard Walter Jenkins was born November 10, 1925, at Pontrhydyfen in the Afan valley of Wales to a family of coalminers. He took the surname of his legal guardian Philip Burton in 1943. Burton was nominated for seven Academy Awards but never won, and was best known for playing Mark Antony opposite Elizabeth Taylor in Cleopatra (1963), Thomas Becket in Becket (1964), Henry VIII in Anne of the Thousand Days (1970) and O'Brien in 1984 (1984). His family deposited his personal papers, including his diaries, at Swansea University in Wales in 2005. The Burton Papers now are a  central part of the new Richard Burton Archive facility, which was formally opened in April 2010.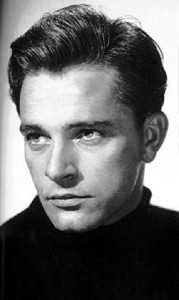 Burton began keeping a diary as a teenager in 1939 and sporadically kept up the practice until his death 45 years later. There are enormous gaps in the chronicle, but what's here makes for wonderful reading. Burton was a gifted writer, and I found myself underlining and underscoring passages throughout. He had a keen insight into human nature and character and was remarkably honest about his own talents and foibles.
Two things stand out above all else in these pages, one a surprise, the other not. The surprise: Richard Burton loved books more than anything else in the world and would rather spend his time reading than acting, drinking, or chasing women. Books remained the one constant in his life from childhood to death and he read constantly, widely, voluminously. Who knew that Burton and Taylor read the Encyclopedia Britannica together?
Second—not so surprising—he was infatuated with Elizabeth Taylor. Everything about her—her acting ability, her brain, her conversation, but above all else, her beauty, captivated Burton, and some of the most stunning passages in his diaries are about her. His descriptions of her physical attributes and his attraction to her make the book worth reading all by itself.
In these pages, Burton is amazingly self-effacing. He often thinks that acting is a silly way for a grown man to make a living, and he says so. He loathes so much about his profession and he grouses constantly about it: "One of those days when acting seems peculiarly silly. What a sloppy job to have."  For him it was a means to an end: good books, good food and drink, good living, great women. He dreads having to go to work, hates reading scripts and trying to memorize lines. There is a lot of small talk and gossip here about other actors and their faults and failures, but he is equally unsparing about his own.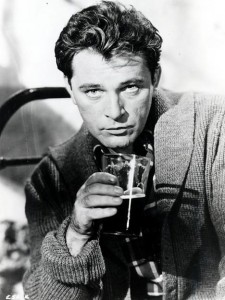 Here we see Richard Burton stripped of much of his glamor. He watches his weight and his waistline, usually complaining about both. He tries to cut down from as many as 100 cigarettes a day. He drinks too much—at one time apparently 3 bottles of vodka a day: "I became very drunk later and shouted a lot. At E. I don't know what about. Just plain sloshed…I have been more or less drunk for two days. I don't know why but I enjoyed it thoroughly." He quarrels too often with fellow actors, strangers, and especially with his four wives through five marriages. He feels old and out of shape and can't sleep. He falls behind in his diary and chastises himself for it. He wishes he could stop working so he could spend all his time reading, drinking, playing Yahtzee, and doing crossword puzzles: "Both Eliz and I agreed that we never want to work again but simply loll our lives away in a sort of eternal Sunday. We are both bone lazy. And enjoy it."  "I wouldn't object to having the whole year off. I could write a book, or dream a lot, or get fit or fat." He wishes people would leave him alone: "I have one disease that is incurable, that I am easily bored."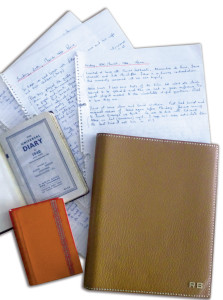 And why did he keep these diaries? As editor Chris Williams points out, Burton never laid out a rationale, he "just got on and did it." For all of his reputation for laziness, Burton wasn't intellectually lazy. He read constantly and wrote long thoughtful passages in his diaries about politics, world events, and history. It seems he believed that a well-rounded, educated gentleman should keep a daily account of his thoughts and deeds, and should try as best as one could to do so honestly. This Burton tried to do when his drinking and other distractions didn't get the better of him, which they did for months at a time:
"I woke to my astonishment at 11:00. How late. I would like to awake, until my death, about 6 or 7 in the morning, but life and nerves being what they are, one is lucky to be up and shouting at 4 in the afternoon. There is a kind of lethargy, induced only by vulgarity, which prompts late rising. I remember the days when to sleep more than 5 hours a day was considered self-indulgence. And I am now self indulgent. It must be booze and age."
Elizabeth Taylor is the co-star of these diaries, and she comes off as being lovely, talented, and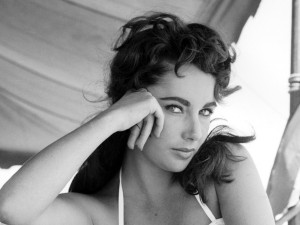 long-suffering at the hands of Burton, who could be an absolute load to have around. He was by turns loving and hateful, broodingly silent and mentally cruel, and an alcoholic, who, by his own admission, had a hard time expressing affection or sympathy for other people's suffering. But he loved her beyond all telling, and several of the lines on E, as he called her, are worth quoting at some length:
"I am madly in love with her at the moment, as distinct from always loving her, and want to make love to her every minute."
"E has become very slim and I can barely keep my hands off her. She is at the moment among the most dishiest girls I've ever seen. The most. I mean dishiest."
"After 7 or is it 8 years I still miss her if she goes to the bathroom."
"My God she's a beauty. Sometimes even now, after nearly 8 years of marriage I look at her when she's asleep at the first light of a grey dawn and wonder at her."
"Elizabeth. . .asked if I would stop loving her if she had to spend the rest of her life in a wheelchair. I told her that I didn't care if her legs bum and bosoms fell off and her teeth turned yellow. And she went bald. I love that woman so much sometimes that I cannot believe my luck. She has given me so much."
"I have been inordinately lucky all my life but the greatest luck of all has been Elizabeth. She has turned me into a moral man but not a prig, she is a wildly exciting lover-mistress, she is shy and witty, she is nobo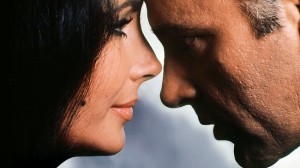 dy's fool, she is a brilliant actress, she is beautiful beyond the dreams of pornography, she can be arrogant and wilful, she is clement and loving, she is Sunday's child, she can tolerate my impossibilities and my drunkenness, she is an ache in the stomach when I am away from her and she loves me! She is a prospectus that can never be entirely catalogued, an almanack for Poor Richard. And I'll love her till I die."
Burton and Taylor fought as passionately as they loved and finally divorced in June 1974. Less than sixteen months later they married again, though the second time lasted less than a year. Still, it's clear in these pages that he loved her as he never loved anyone else: "I miss her like food."
His love of reading is noted almost every day: "Maybe I'll just read and read and read…Sunday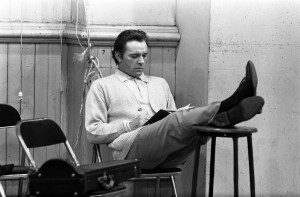 papers arrived and I settled down for the day…spent the afternoon browsing through Oxford Dictionary of Quotations. . . new bookcase arrived and I had it fixed next to the bathroom in guest bedroom and suitably filled it with books. Will have to order another bookcase. . .Looking forward to Switzerland and books and peace."
Burton is self-effacing but he could be wickedly, bitingly funny and sarcastic about other people as well.  A few of his bon mots: "She was as mini-skirted as a California palm tree. The hem was only slightly below the neck." Pop singer Gordon Waller was "suffering from a bad attack, which may be permanent, of refusing to be impressed. I feel sorry for the poor bastard. He was one of those pop singers who didn't survive his first success." Writer Roddy Mann "fairly bristles with insignificance." On Charles de Gaulle: "I'd kick him in the arse if I could reach that high." Frank Sinatra was "a petulant little sod." Eddie Fisher, one of Elizabeth's ex-husbands, was "a gruesome little man and smug as a boot." And then there was this, on fellow actor Rod Steiger's facelift: "it makes him look like one-half of a naked asshole. He says he can't get any jobs and will soon be broke. It might be because people don't want to be looking  at a talking asshole."
Burton would have no doubt been pleased, if not a little amused, to see his own diaries in print. He was approached about it during his life: "I have been offered a million dollars for one month of this diary. Somebody is mad. And I is not it. But I wonder if it would be interesting. I would, after all, like to read the diary of an office-worker. Might people be interested in reading a month in the life of an actor, especially one married to such an exotic wife as mine?" Indeed they would.
As to life beyond death, he didn't expect it: "I wish I could believe in a God of some kind," he offers at one point, "but I simply cannot. My intelligence is too muscular and my imagination stops at the horizon, and I have an idea that the last sound to be heard on this lovely planet will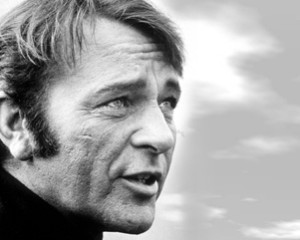 be a man screaming. In fear and terror. It might be me." Needless to say, it wasn't. Burton suffered a cerebral hemorrhage in August 1984 and is buried in Switzerland. Elizabeth Taylor outlived him by almost 27 years.
As writer Jessamyn West wrote, "people who keep journals have life twice." Thanks to Chris Williams and Yale University Press, Richard Burton in these pages has achieved a kind of immortality that a lover of the printed word like himself would have prized far beyond the afterlife he has long enjoyed for being—one can almost hear Burton yawning—an actor.  "My first love," he said, "is not the stage. It is a book with lovely words in it." A man after my own heart.