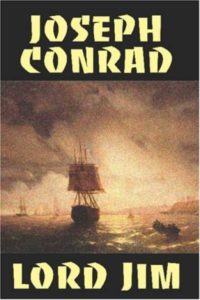 Lord Jim: A Tale, by Joseph Conrad (1900; Easton Press Edition, 407 pp.)
I was reminded very recently that fifteen years ago, when one of my colleagues first came to work at the Georgia Historical Society, I asked her what she was currently reading. She told me, and—according to her—I responded with just two words, dripping, she says, with judgment: "Ah. Fiction."
I'd like to be able to deny this as wholly out of character for me, but alas, I cannot. At that time and for the preceding fifteen years at least—through all my years in graduate school—I read non-fiction almost exclusively, usually history or biography. It wasn't that I looked down my nose at fiction, there were just too many non-fiction books that I felt I had to read. So many books, so little time.
Five years after that—about ten years ago—I was reading one of Nicholas Basbanes' books about book collectors and the treasures they sought, when I finally realized that my reading life and education were woefully deficient because I'd never read most of what are considered the "great books," almost all of which, incidentally, are fiction. I had read a few in high school, but that hardly counted. That had to change.
Being very deliberate about such things, I wanted to go about the task systematically, so I subscribed to the Easton Press list of the "100 Greatest Books Ever Written." Starting with Huckleberry Finn, I began receiving a handsome, leather-bound volume—complete with moiré endpapers and silk bookmark—in the mail each month. They made a handsome new edition to my library too.
Thus began a new chapter in my reading life. What might have seemed like drudgery in my teens has been one of the most enjoyable experiences imaginable.
The list was of course highly subjective and carried the usual caveats, being heavily Euro- and male-centric. If I had to rank them in terms of how much I enjoyed them, I'd put Henry Fielding's Tom Jones somewhere near the top, while some of the titles I wouldn't have placed on any list of "great" books, if by "great" we mean outstanding works of literature or works of art. Charles Darwin's On the Origin of Species is undoubtedly an influential book, but in my uninformed opinion it is not a great work of literature–not because of the subject but because it's too bloody hard to read. It's like trying to read Isaac Newton's Principia Mathematica or Christiaan Huygens' Treatise on Light—both are very important books, but not books you'd give to Uncle Murray for Christmas.
After a decade, I have only thirteen more to go. It should go without saying that I won't stop reading the great works of literature when I've read all 100. This is just the beginning.
Number 88 on the list (and they are sent randomly, not ranked) is Joseph Conrad's Lord Jim. Conrad was born in the Ukraine, and the man hailed as one of the great English novelists didn't learn the language until he was 21. He wrote Lord Jim when he was 41.
The story is a simple one, yet it goes to the heart of what it means to be human, and which we've explored in other books this year: What is it that creates our identity? Are we bound by the events of our past, doomed forever by the mistakes we've made, or can we begin life anew by force of will?
Jim is the first mate on board the steamship Patna, carrying 800 pilgrims of faith to a port in the Red Sea. After the ship hits an object and begins taking on water, Jim and most of the crew abandon ship, leaving the pilgrims to face a watery grave. After the crew is picked up a few days later, they learn that the Patna didn't sink and was instead brought safely into shore. The crew are all vilified, the captain commits suicide, and Jim spends the rest of his life trying to live down the shame of what he's done. It defines him for the rest of his life.
Jim drifts from place to place, finding work here and there, but always having to flee in disgrace after meeting someone who knows about the Patna. "To fling away your daily bread so as to get your hands free for a grapple with a ghost may be an act of prosaic heroism . . . all his recklessness could not carry him out from under the shadow. There was always a doubt of his courage. The truth seems to be that it is impossible to lay the ghost of a fact. You can face it or shirk it—and I have come across a man or two who could wink at familiar shades."
His misery follows him relentlessly until he lands on a remote island, where the natives call him "Tuan Jim" or Lord Jim. Does he at last find a measure of redemption before his death?
Conrad in all of his work was deeply pessimistic about human nature, and though he wrote quite a few sea stores, this one is at its heart about what happens to a man with a haunted and hunted soul who is ultimately running from—and warring with—himself.
It is one of the themes that runs throughout the Great Books. Perhaps another novelist, Nancy Wilson Ross, herself an expert on Eastern religions, framed this eternal dilemma best: "When man conquers space, his ancient, universal and perpetual problem will remain the same as it has been from the beginning—to conquer himself."