A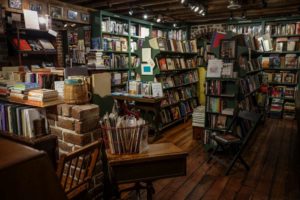 ll Heaven and Earth in a Bookstore
This week we take a break from discussing current reading to talk about another favorite book-related topic: the joys of the used book store.
Long-suffering readers of this blog have read about the wonders of the used book sale, which usually only happens once a year. A great used bookstore brings that wonder all the year round.
Like the brick and mortar retail bookstores, used bookstores are an endangered species. There used to be one in nearly every town, but not so anymore.
I have written before about the legendary Oxford Too in Atlanta's Peachtree Battle shopping center, which like its parent Oxford Books closed in 1997. The Old New York Book Shop in Atlanta, owned by Cliff Graubert, was another favorite, as was Smythe Books in Dunwoody, owned by my friend Jim Strawn. Both of the latter two are still operated out of the basements of the homes of their owners, and you can call them and peruse their wares by appointment, or find them on the Internet.
As an undergraduate at the University of Georgia, I well remember discovering Jackson Street Books in Athens after it opened in 1984. Their history and biography section was a gold mine for an aspiring historian, as so many of the UGA faculty disposed of unwanted books there. Alas, the store closed in 2016 after 32 years in business.
There are still some great used bookstores around Georgia, however. This is by no means a complete list, just three of my favorites: the Golden Bough in Macon if you're traveling on I-75, E. Quinn Booksellers in Blue Ridge when you're up in the mountains (say hello to Mike when you go), and our very own Book Lady right here in Savannah.
A few years ago I made a quick trip to New York and ran out of time before I could visit the Strand, the mecca of all used bookstores at Broadway and 12th. But when in Boston I did visit Commonwealth Books and the Brattle Book Shop in Boston, two legendary venues as well.
Back in 2009 I was planning a business trip to Washington, D.C., and was going to have an entire day free in the middle of the week. Readers of this blog know I'm a huge fan of Washington Post book critic Michael Dirda. I sent him an email at the Post and asked what used bookstores he'd recommend in the D.C. area, figuring he wouldn't write back.
He did, immediately, and sent me a complete list of his favorites, including Second Story Books, a cavernous book warehouse out in Rockville, Maryland, where he lives. When my free day came, I took the Metro Red Line to the penultimate stop in Rockville, just before Shady Grove, walked a mile to the warehouse, and spent several blissful hours perusing the stacks. I had to ship everything home, but it was worth every penny.
Just yesterday I spent a rainy afternoon in my friend Joni's Book Lady Bookstore on Liberty Street, and found several treasures.
My first pickup was The Golden Argosy: A Collection of the Most Celebrated Short Stories in the English Language (1955), which contains such classics as Stephen Vincent Benet's "The Devil and Daniel Webster," Rudyard Kipling's "The Man Who Would Be King," and Thomas Wolfe's "Chickamauga." I've been looking for this one for years, and there it was, for only $7.50.
I also found Peter Ackroyd's The Life of Thomas More (1998), The Church & The Age of Reason, 1648-1789 by Gerald R. Cragg, Jonathan Green's Chasing the Sun: Dictionary Makers and the Dictionaries They Made (1996), and Arthur M. Schlesinger, Jr.'s massive Robert Kennedy and His Times, the 1978 doorstop that weighs in at well over 1,000 pages, just in time for me to read at the 50th anniversary of RFK's death. In hardback, yet. Five books at $46 total: taint bad, Magee.
Well, you say, used bookstores are okay, but I can buy anything I need, used or new, on the Internet—or better yet, I can download almost any book immediately to my Kindle. And so you can.
But if you truly love the printed word, there is nothing like the serendipity of browsing the stacks of a used bookstore. As a book collector, and truly, as a reader, the hours I've spent in these vanishing guardians of literary gold have been among some of the happiest of my life.
Christopher Morley said it best, in his great homage to the book, Parnassus on Wheels: "When you sell a man a book you don't sell him just twelve ounces of paper and ink and glue – you sell him a whole new life. Love and friendship and humor and ships at sea by night – there's all heaven and earth in a book, a real book I mean."
I agree.