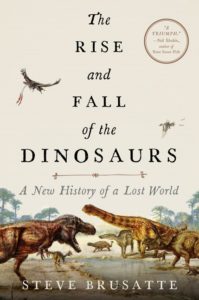 The Rise and Fall of the Dinosaurs: A New History of a Lost World, by Steve Brusatte (William Morrow, 2018, 404 pp.)
I've never read a book about dinosaurs. Growing up, I was never very good at (or interested in) science, though like everyone else I went to see Jurassic Park on the big screen when it came out in 1993 and was of course inspired by their majesty and beauty. That movie, for all the flaws that experts picked out, inspired an entire generation of new paleontologists.
I also don't usually buy books when I'm browsing at the "New Releases" table at the bookstore, but I recently picked up Steve Brusatte's new book and I'm glad I did. It looked interesting, and I thought it might be a good way to learn about a subject I know next to nothing about.
Brusatte (pronounced brew-sot-e) is an American-born and -trained paleontologist at the University of Edinburgh and the "resident paleontologist" for the BBC's "Walking with Dinosaurs." He brings an infectious enthusiasm to his subject and he knows it well. He weaves into the hard science of paleontology tales of discovery that make for good reading, especially for those scientifically challenged learners like me.
First, the vastness of the chronological scale when it comes to dinosaurs is staggering. American historians study people and events from the last few hundred years. Even historians of antiquity focus on thousands of years. But the life of dinosaurs goes back over 225 million years, a temporal span that can be difficult to wrap one's mind around.
Second, lest you think that scientists have discovered all there is to know about creatures that have been extinct for 66 million years, think again: paleontologists discover on average one new species of dinosaur every week. Not a new bone or fossil—a new species that we did not previously know about. According to Brusatte, we are living in the midst of a golden age of discovery right now; he has discovered fifteen new species himself though not yet 35.
Finally, it's quite humbling for someone who has spent his entire career studying the history of humans—and very recent ones at that—to contemplate humanity's link in the evolutionary chain of Earth's 4.5 billion years. Humanity is a rather recent phenomenon, geologically speaking, and when you're forced to step back and take the long view of millions of years—as this kind of book makes you do—you realize that we ourselves may vanish one day, as the dinosaurs did, through a natural catastrophe or one of our own making.
It's hard to imagine that our entire species might eventually be reduced to fossils and bones, discoverable by some other species millions of years from now, but that is exactly what happened to the dinosaurs.
We can only hope that in that new world someone as talented as Steve Brusatte will be around to explain the meaning of whatever fragments of our own long-vanished world they manage to extract out of the dust.